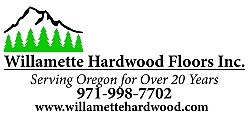 Willamette Hardwood Floors Inc.
Willamette Hardwood Floors Inc.

License:

192701

Main Services:

Refinishing and restoration of wood flooring products. Installation and repair of solid and laminate wood flooring. Commercial and residential.

In Business Since:

2010

Company Overview:

Meeting all your wood flooring needs with over 25 years of experience.
Owned by Bill and Bradli Daun, Willamette Hardwood Floors is your source for professional hardwood flooring in Salem Oregon.

We live, work, and play in our community, so building our business on a solid foundation of professional service and quality workmanship is vital to our long term health as a company.

We view our client relationships as the most important part of our business, and are likely to call you friend when our project is finished.

We look forward to sitting down with you and discussing your flooring project. Give us a call today.

Our family has been serving the Willamette Valley's hardwood flooring needs for 5 decades, including 3 generations of wood flooring craftsmen.

Bill Daun started his training with his grandfather, the owner of Carroll's Hardwood Floors, when he was just fourteen years of age.

After working side by side with his grandfather for many years, Bill moved on to work with several other reputable companies such as Union Hardwood Floors, Gieselman's Hardwood and, finally, Ryerson Hardwood Floors where he spend over thirteen years fine tuning his hardwood flooring techniques. Bill continued to learn from some of the finest "old school" hardwood flooring craftsmen in the business.

Presently, Bill is the operator and founder of Willamette Hardwood Floors, Inc. and resides with his wife and business partner, Bradli Daun, in Salem Oregon.

Our company was established with some very simple principals for doing business. These principals were passed down from Bill's grandfather and are still in place today in our company.

The customer is our first priority, combined with attention to detail and producing the highest quality product available at a fair price...that is our mission.
Reviews By Customers
Review by: F. Copper
Work Description: Complete refinish and restoration of our damaged wood floors
Comments: If you are planning to have your hardwood floors refinished, Bill at Willamette Hardwood Floors is a "must call". Our Church was doing a remodel of our Parsonage and Bill responded promptly to our request for an estimate. After getting 5 estimates, his was the best and he was awarded the contract. Believe me when I say that no matter how bad your floors are....these were worse...been under carpet for 40+ years and had lots of bad pet stains, etc. Bill and his crew were very professional and performed the work on time and on schedule and the results were amazing. I strongly recommend that if you need this type of work done, you should definitely give Bill a call....you won't be disappointed.
Review by: James Milkovich
Work Description: Removed old damaged wood and carpets. Installed new wood and refinished our old existing wood floors.
Comments: Bill and Willamette Hardwood Floors Inc were recommended to us by a co-worker who has had 2 separate flooring projects completed by them. Our new home had nasty old carpet thru out the home, and hardwood floors underneath. Willamette Floors came to our home and gave us a very reasonable bid to remove the carpet and refinish our wood floors. When Bill and his crew arrived and removed the old carpet; we discovered large black stains and several areas where wood flooring was missing. Bill agreed to repair and lace in some new flooring where the flooring was missing; they also did some extra sanding and blending to remove the black stains. The cost for all the extra work was very reasonable and the final finished floors looked absolutely amazing; like new. Bill and his crew did an excellent job and cleaned up after the sanding was done. I would highly recommend Willamette Hardwood Floors; they truly are old school craftsmanship and give a great product for a reasonable cost.
Review by: Terry Riley
Work Description: Installing a wood floor sanding and repair.
Comments: Bill installed prefinished wood flooring in our living room, dining room and entry way. Bill was initially referred to us by the supplier of the flooring as the only hardwood flooring installer that they were willing to recommend. Their long list of installers had recently been whittled down to Willamette Hardwood exclusively. As a result, we called Bill and had him out to review the job, answer our questions and provide a quote. We were impressed with Bill Daun in his promptness to respond, polite and professional demeanor. Bill was thorough and professional in his bid pricing and detailed job scope. He answered all our questions clearly and concisely. His pricing was very fair. Most importantly, Bill Daun delivered a beautiful flooring job exactly as he quoted us and on time to our complete satisfaction. Bill is a straight-up man of his word that has the skills and the work ethic to deliver any flooring job he bids. If it's not in his skills, he is honest and declines the job rather than to risk doing a poor job and a dissatisfied customer. We had asked Bill if he would bid some tile work for us as well as the flooring job. He politely declined because he said, his expertise is wood flooring and he sticks with his skills and experience. I appreciate Bill's honesty, work ethic and skill. Bill's actions always matched what he said to us. We'll gladly recommend him for any hardwood flooring job and plan to use him exclusively for future work in our home. ~ Terry, Beaverton Oregon
Review by: Jeremy
Work Description: Restoration of our wood floors
Comments: We purchased our house about a year ago, and due to the recent flooding, we needed to remove the carpeting in our living room. We decided to look into hardwood or laminate flooring and called these guys to check out our floors. Bill took a peek under the carpet and discovered we had fir flooring hidden underneath. Bill refinished the floors that had been hiding for years, and I couldn't be happier with the result. The floors look amazing, and he was even able to take care of some damaged areas seamlessly. Professional, hard working, and a hell of a nice guy. I would absolutely do business with him again. ~ Jeremy, Salem Oregon
Review by: Roanna Holden

Work Description: He installed our flooring.

Comments: Bill did an absolutely beautiful job. We get compliments on our floors all the time. He is really great to work with and always cleans up after himself.

heading_subtitle