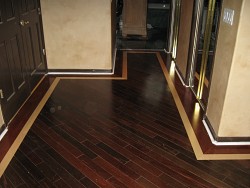 Prescreened by Networx
Top Notch Floor Decor Inc.

Main Services:

All types of Floor Installation And Complete Floor Removal Service

In Business Since:

2000

Company Overview:

Top Notch Floor Decor is your local choice for all your flooring needs. Proudly serving the Tampa Bay area for the last Thirteen years, we strive to install high quality floors on time and within budget.

Top Notch Floor Decor has recently expanded its servicing area to North Central Ohio. The same efficiency,and quality standards, you have come to expect are now available in your area.

Tampa: 813-541-2708
North Central Ohio: 440-226-3771

See samples of our work @ www.topnotchfloordecor.com

We abide by all the industry standards so the product manufacturer's warranty is upheld.

Our work is guaranteed by a 1 YEAR LABOR WARRANTY.

We can handle any size project, from installation to refinishing, with complete satisfaction on every job.

Everything from Hardwood, Laminate, Sand & Finish, Tile, Epoxy Systems, Marble, Stone, Carpet, VCT, Vinyl. We are also a Flooring Removal Service; complete with ride on floor remover, and dustless diamond grinding package.

We provide individual attention to every project and take great pride in our work. With our unsurpassed product knowledge we have the ability to help you stay within your budget without compromising the quality and service you deserve. We pride ourselves on our outstanding service and work to meet your needs and exceed your expectations.
Reviews By Customers
Review by: Jeanne Forsythe from Wesley Chapel FL
Work Description: repair foundation and tiles from a water leak.
Comments: Couldn't be happier. Fair amount for the work and was here when he said he would be.
Review by: a ruben from Pinellas Park FL
Work Description: repaired floor
Comments: was done as expected
Review by: j McKenzie
Work Description: Top notch crew did a wonderful job on my kitchen and bathroom very nice work guys! Gotten many compliments on my new flooring
Comments: Very good quality affordable prices and guaranteed work would recommend to everyone looking for quality timely work. Very professional crew. Thanks top notch
Review by: Frank Gatto
Work Description: new floor for kitchen, eating area 2 bath rooms &small hallway over 4oosq. ft.of tile we are still looking for the right tile.
Comments: very professinal, prompt, & good prices
Review by: E. Donnelly
Work Description: Remove and Replace Tub Surround
Comments: The crew was very professional, on not only the install, but working with us and our plumber, as was made alterations in the middle of our project. Thank you so much guys.
Review by: Bill Bland
Work Description: Paul installed tile in a couple of bathrooms.
Comments: Paul did real great work. His workers were prompt and cleaned up after themselves.
Review by: R. Stevesbury
Work Description: These guys, came in an removed 1850ft of wood, and 370ft of Tile. They then installed my whole home with the nicest marble floor, I have ever seen. Thankyou So much guys.
Review by: S. McDaniel
Work Description: I had a flood, Paul from Top Notch, came in and removed the water damaged flooring, and installed subfloor unfinished Maple. Then they sanded stained and finished the floor. It is absolutely beautiful,
Review by: w broxsie from Tampa FL
Work Description: cork flooring installation...completed in a timely manner.
Review by: Carole from Tampa FL
Review by: Mathew Dunk
Work Description: Stained concrete Wood Flooring
Comments: I contracted Top Notch Floor Decor Inc for my parents home, as an anniversary present while they were on vacation. I must say even under time restraint and the overall amount of work involved, they aced it. Thanks again guys!!!!!
Review by: Bill Blanton
Work Description: They installed tile and wooden floors for me.
Comments: They did a real great job and are pleasant to work with.