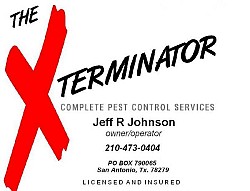 The X terminator
The X terminator

License:

0574627

Main Services:

PEST CONTROL

Years In Business:

58

Company Overview:

The X terminator is a full service, pest extermination company committed to making you the customer happy. This of course means keeping the number of pests in and around your home or business to a minimum. As most of you know, south Texas pests are no laughing matter. They were here first and if we don't keep a vigilant watch, they will continue to invade our living space. We offer Quarterly service plans with no contract to sign. Or just a one time treatment as needed. Were flexible and we can design a pest management system that works best for your individual needs
Reviews By Customers
Review by: M. E.
Work Description: Client could not afford the process at this time....is considering it in the future.....thanks
Comments: The client was pleased with the quick response, and the information she received, but at the moment she could not afford it.....We are impressed with your prompt response !
Review by: M. R.
Work Description: Internal fumigation of a house
Comments: Great job!!! Thanks,
Review by: D. F.
Work Description: carpenter and fire ant control
Comments: Jeff did a great job. After he spared my yard the next day I checked the ant mounds and the ants were gone. So far so good!
Review by: H. S.
Work Description: set out baits for rats
Review by: J. S.
Work Description: I was informed of the work he was going to perform before he did anything & then showed me upon completion.
Comments: He was very quick to respond after I made the inquiring and was able to come the following day.
Review by: D.
Work Description: Rodents
Comments: Jeffey worked with me in every way to get my rat problem under control.Now I can sleep peacefully. Thanks to the Xterminator
Review by: C. H. .
Work Description: Jeff got rid of critters, bugs, and fleas.
Comments: Jeff was very efficient. He was able to get rid of pests that others weren't. He showed up on a Sunday morning when he didn't need to.