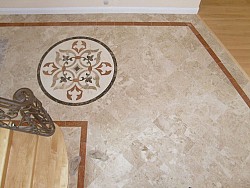 Prescreened by Networx
TAC Tile www.tactileandstone.com

Main Services:

Tile and stone flooring and bathroom remodeling,paint etc.

In Business Since:

1979

Awards:

#1 in colorado springs for tile flooring installation company 2212,2013

Company Overview:

Tile and stone installation ∙ ∙ Tile flooring.
Colorado Springs - Castle Rock - Parker ,highlands ranch
TAC Tile specializes in, Tile and Stone flooring and bathroom remodeling for residential home improvement and remodeling. The company puts the needs of its clients on top priority and is dedicated to fulfilling those needs. No less than the owner himself of the business works on the projects to make sure that each customer gets unmatched quality and rare craftsmanship, Guaraunteed for 5 years. when it comes to flooring installations and bathroom remodeling, TAC Tile is your best choice!

TAC tile did an outstanding job on my bathroom remodel and tile flooring.flawless work!The company has been serving Colorado Springs, CO. and other surrounding areas since 1979 and has given nothing but the best in craftsmanship, material, and service to its clients. As a result, a high percentage of its customers are return clients and referrals. I do have an A+ Rating with B.B.B.

TAC Tile's owner has worked for 30 years handling all kinds of materials from glass tile, ,slate, travertine, marble, paver, porcellean and ceramic tile etc, and all phases of tile and bathroom remodeling. The owner also prides his company's capabilities when it comes to old school techniques like wet mortar set, which most of the new contractors do not even know about. With TAC Tile, you can be sure to get the high-quality workmanship and know what you are paying for.
Failed flooring installations can become costly, but they are definitely avoidable. When you plan to have your tile and stone floors installed in the areas of Denver, Co, Colorado Springs, Castle Rock, Parker and other nearby cities, TAC Tile can give you the best advice and options that are well within your allotted budget.

For your residential and home improvement requirements in flooring and bathroom remodeling, get the one with the experience and skill to make your project a success. TAC Tile has its list of satisfied customers and a work portfolio to back up its business. I answer all calls for a free estimate. 719 491-8912

Website:

http://tactileandstone.com
Reviews By Customers
Review by: mike
Work Description: Tile in my kitchen, tile on bathroom heated floors and marble.hall tub remodel
Comments: I was lucky to find a great guy .I was on a budget and terry really worked with me to fit that and did a great job.He saved me allot of $ on the tile too.
Review by: kevin conrad
Work Description: TAC Tile remodelded my three bathrooms and entry plus kitchen installed stone through oot my whole house .
Comments: The work done by TAC Tile was just beautiful.I am so pleased with all of it.I would highly reccommend them.Terry really went out of his way to help me in designing this whole project,and came up with some great choices that I am very happy with.Mr.Cool is a real pro! THANKS!!
Review by: Carol Pannebaker
Work Description: Install kitchen backsplash
Comments: Terry and Chris of TAC Tile did a great job. They were quick to respond, fast and efficient workers, cleaned everything up afterward, and were very pleasant to talk to. This company is great - I would call them again in a heartbeat.
Review by: Anne George from Centennial CO
Work Description: Repair prior incorrectly installed shower tile floor, bench and drain. Terry and Chris were efficient and created an attractive floor and bench with good match to walls. They corrected prior poor grouting.
Comments: Terry has extensive experience in the industry which showed in quality of work. Plan to have Tac Tile update a guest bathroom. Recommend highly!
Review by: andrew
Work Description: I had TAC Tile do all of my bathroom remodeling.We changed from tub to shower,and Mr. Cool really did a great job for us from start too finish.We are just thrilled with the quality of the work.A fantastic artist.Thanks so much for the wonderful job.
Comments: Very good
Review by: chris
Work Description: I hired Terry to do my work because I kwnow he is the best in town,and he did not let me down.He is the hardest worker I know.His work is level,plumb,solid,flat,perfectly laid out.In and out fast and clean.I know if I needed anything he would be right back to take care of it.
Comments: I made an excellent choice for my project!
Review by: ami
Work Description: The work through my house with Mr. cool was ,absolutly beautiful! Terry really helped with desighn,and selection.I get so many compliments.I just loved him!
Comments: A very nice guy with allot of pride and integrity
Review by: William Farrell from Centennial CO
Work Description: tear up old flooring. tile floor and up the wall trim piece in 2 rooms
Comments: Very pleased with all aspects of the works. Will highly recommend his service.
Review by: Richare Page from Lakewood CO
Work Description: Artistic re-tile of entryway, bathroom floor and tub surround tile all the way to the ceiling.
Comments: Timely, reliable, capable and social.
Review by: Richard Page from Lakewood CO
Work Description: Tile setting two rooms with porcelain tile.
Comments: Beautiful finished product!
Review by: Robbie Finley from Longmont CO
Work Description: Shower pan re-tile and repair
Comments: Tac Tile was awesome. Good work and a FAIR price. We are saving their business card and hope we never have to use it, but, if we do need tile work, they will be our only call.
Review by: tara custom holmes
Work Description: I have used TAC TILE for over 20 years!Not only is he a good freind ,but he has done tile and stone work his whole life.He can do very high end work and he is very reasonable.The best tile guy i know
Comments: simply the best in town
Review by: paul n tara riseing(tara custom homes)
Work Description: Terry has done tile for me on many of my projects!
Comments: I use Terry because he has 30 years in this business and I think he is the best in the springs
Review by: jeff hall
Work Description: Tile kitchen /Bathroom floor
Comments: I was shocked at how fast he was and not a single flaw
Review by: greg unseth
Work Description: Tile on all floors kitchen splash and shower walls and pan plus the fireplace
Comments: Terry really impressed me with his knowledge and professionalism It is very obvious he has many years of experience.The craftmanship was amazing ! the price was very good as well
Review by: Nancy from Half Moon Bay CA
Work Description: Slate over concrete for outdoor spa. Came up with nice solution for leveling and sloping.
Comments: Very pleasant to have around. He and his work were very hardworking. I love the results.
TAC Tile www.tactileandstone.com Replied:
thank you Nancy for the work and compliments
Review by: Nalesh Mistry
Work Description: Tile installation.
Comments: Terry does great work and is a very diligent and professional worker. I am very satisfied with him and would be happy to work with him again.
Review by: Anne Wenegrat from Palo Alto CA
Work Description: removed bottom layer of tile rimming the bath tub, repaired problems related to water seepage behind the tiles, replaced the tiles, caulked and sealed.
Comments: Excellent service - our tiles had turned from beige to brown due to water seepage. We had previously used another company to regrout and seal the tiles, but the problem returned. Tried sealing, regrouting numerous times, but the water continued to discolor the tiles. Terry and his helper did a very thorough job, worked quickly and efficiently, and cleaned up completely. A few days after completion, the tiles look great! Terry was also very friendly, punctual, and did an extremely professional job for a reasonable, competitive price. Would recommend TacTile to my friends.
TAC Tile www.tactileandstone.com Replied:
Thank you anne for your kind words as well as business!Terry Cool (T.A.C. TILE)
Review by: Mike Govea from San Francisco CA