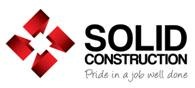 Solid Construction General Contractor Corp
Solid Construction General Contractor Corp

In Business Since:

2007

Company Overview:

YOUR GENERAL CONTRACTOR SERVICE COMPANY WHERE YOU GET TIME, QUALITY, EXPERIENCE AND PROFIT, SO YOU CAN "GET SOME REST". WE PROVIDE FREE ESTIMATES ON ALL PROJECTS LARGE OR SMALL. WE ACCEPT ALL MAJOR CREDIT CARDS FOR YOUR CONVENIENCE. ASK ABOUT MICRO CONCRETE, WHICH IS A THIN LAYER OF CONCRETE THAT COVERS UP ANY INTERIOR OR EXTERIOR BOTCH-UP. WHEN YOU WANT A GENERAL CONTRACTOR THAT CAN HANDLE ALL YOUR CONSTRUCTION NEEDS, CALL SOLID CONSTRUCTION GENERAL CONTRACTOR CORP TODAY.
We also finance projects up to 100% with no credit check.........