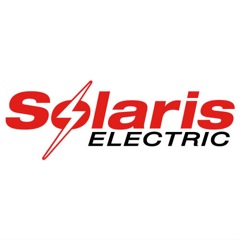 Solaris Technology Inc
Solaris Technology Inc

License:

ER13014493

Main Services:

Electrical Service Residential, Commercial

Years In Business:

7

Company Overview:

Solaris Technology Inc Electrical Contractor is the Orlando area's most trusted expert electrician. We specialize in residential electrical service and repair, gladly serving the entire Orlando FL area. Whatever the job, large or small, Solaris Technology Inc Electrical Contractor is standing by to meet your needs and exceed your expectations!
Reviews By Customers
Review by: A. W.
Work Description: Troubleshooting 4 outlets that no longer worked after being overloaded on Thanksgiving holiday.
Comments: Being new in the Clermont area, we came to the Networx website to find a reliable electrician. After leaving our contact information on Networx, Richard from Soaris called us. Even though it was Sunday, Richard was onsite in the afternoon and fixed our issue. He was both knowledgeable and professional. We recommend Solaris to others.
Review by: M.
Work Description: Replace electrical panels, and house rewire.
Comments: Great work!
Review by: M.
Work Description: Panel upgrade and light installation
Comments: Replace outside panel and added more lighting in the house. Great work and very clean
Review by: B. . P.
Work Description: richard was great.
Review by: E. . C.
Work Description: Troubleshooting great job
Comments: Richard, came out did a great job would hire all the time and tell everyone I know
Review by: D.
Work Description: Replaced my electrical panel inside and outside. Richard also removed all of the old aluminum wire and installed copper wire for my insurance request
Comments: Great Work. I definitely recommend
Review by: P. K.
Work Description: Electrical Home Rewire
Comments: Great service, the house was rewired from aluminum to copper. They came in and did not destroy our walls. Very professional and competitive rates!
Review by: A. F.
Work Description: Changed to lighting in our kitchen.
Comments: Great work, rapid service, was very clean and neat. Very friendly and knowledgeable. Would not only use. Again, but would certainly recommend Solaris to anybody.
Review by: A. F.
Work Description: Changed light fixtures
Comments: Richard was great to deal with. He was prompt, very professional and the price was more than fair. He cleaned up the area he was working in and it was more spotless than before he arrived. I would use and recommend Richard anytime.
Review by: B. G.
Work Description: Generator Installation
Comments: Solaris Electrician installed 20KW generator at my home. They are professional and affordable. Great Work!
Review by: S.
Work Description: To replace the GFCI outlet
Comments: Shortly after giving my request, I received a phone call from Richard,Solaris Technology Inc. and Yamer showed up as I was told on time. I tell you, it was very pleasant experience to do business with these gentlemen. The charge was very reasonable and the work was excellent. I certainly would use them again and I will refer them to anyone I know. Thank you. Salah
Review by: J. F.
Work Description: Electirc installation for a jacuzzi.
Comments: I am very satisfied with their service, the technician came one time and the price very reasonable. Richard was very professinal.
Review by: C. L.
Work Description: Major electrical wk including breaker box replacements
Comments: Prompt, courteous reasonable rates. Electrician they sent was great!!!
Review by: K. L.
Work Description: They were very timely and professional in the work they did for me.
Comments: Solaris Technology was very responsive to my initial request that I made through their website. Other companies either did not get back to me or took a long time to do so. Richard was very professional and knew what he was doing. The prices were reasonable as well.
Review by: B.
Work Description: Very professional in replacing our circuit breaker box
Comments: We had put off replacing our circuit breaker box because we were afraid that we would be left with a lot of repair work from the process. Boy, were we wrong! Ricard was nothing but professional from the first time we met him and treated our home as if it were his own. He is a real asset to the profession.
Review by: N. A.
Work Description: Very very reasonable price and personable staff
Comments: I found Solaris Technology Inc. online while searching for a local electrician. Their website asked me to leave some information, saying that I would get a few calls back and I did right away. I spoke with Richard and he offered to come right away. The day he arrived he knew immediately what my electrical problem was and told me what he was going to do. He always made sure to run things by me and ask for permission before doing it, which I liked very much. They were very very reasonable on the price and I had a personable young man come visit. Certainly you should always get quotes from multiple companies before picking one, but companies often understate their final price while Solaris Technology Inc. gave the best price and stuck to it. I plan on using them again soon for something I need fixed in my home.
Review by: G. R.
Work Description: Replaced GFCI plugs and worked on Pool plugs.
Comments: Very professional and knew his stuff. He stayed late at my house to finish up the job and started the job the same day he quoted me!
Solaris Technology Inc Replied:
Thank You
Review by: D.
Work Description: Install electrical switches for garbage disposal
Comments: Solaris not only did the electrical work associated with installing my garbage disposal, but they also installed the garbage disposal itself! Wonderful service at a reasonable price!
Solaris Technology Inc Replied:
Thank You
Review by: K. L.
Work Description: Installation of a ceiling fan
Comments: Of the four (4) Company's provided to me for reference, Solaris was the first and really ONLY company to call. I did get an email from R E Electric 3 days after the call from Richard at Solaris....but by this time I had already decided on Solaris for the job. The two other companies (C.R.E.W. Services and Brite Electric) never attempted to contact me. I am happy with the work Solaris did but the responses from the other three companies was not underwhelming.
Solaris Technology Inc Replied:
Thank you