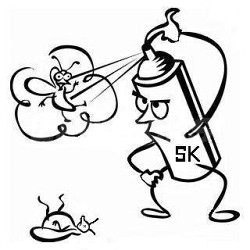 Prescreened by Networx
S K Pest Elimination, LLC

License:

B-2327, S-5246

Main Services:

Residential and Commercial Pest Control

Years In Business:

12

Awards:

BBB

Company Overview:

S K Pest Elimination, LLC wants to help you and your business stay clean of all pests and the violations that come along with them. We do all types of pest elimination and can handle all your pest control needs. We provide free no pressure estimates for your convenience. So go with the pros and call S K Pest Elimination, LLC today for all your pest control needs.

Website:

http://www.skpest.com
Reviews By Customers
Review by: Debbie from Meriden CT
Work Description: He exterminated Carpenter Bees.
Comments: I am very pleased and satisfied with their work. They made it a very pleasant experience. They called me right away and came to the house and did the work right away! What more can you ask for! I'll definitely recommend them to anyone looking for an exterminator.
Review by: Jen Liner from North Haven CT
Work Description: termite inspection for VA mortgage loan
Review by: DANIELLE ROPER from Bridgeport CT
Work Description: WASPS NEST WITHIN A MOTION SNENSOR LIGHT AND WALL
Comments: I WOULD HIRE SK PEST CONTROL IN A HEART A HEART BEAT, NOT ONLY WAS EDGAR THE TECHINICIAN VERY POLITE BUT HE WAS ALSO INFORMATIVE ON WHAT WOULD HAPPEN TO THE WASPS NEST. I LOVED THE WAY NO MATTER HOW SILLY THE QUESTION HE ANSWERED WITH GREAT SINCERITY.
Review by: pam RACKLIFFE from Branford CT
Work Description: got rid of wasps
Comments: all went very well
Review by: Danielle
Work Description: Edgar not only was on time and explained thoroughly of what he was going to do and how it will affect the wasps and the entire hive. He inquired about other entry ways and took a brief look aroudn my home.
Comments: I would hire him a again in a heart beat! Edgar not only took the time to explain to me verbally when he contactedme via phon he took the time out again and answered every and any question I had when he arrive for the job. He also made me feel comfortable to not hesitate to call him if I saw any more wasps/bees the next day
Review by: Peter Bonfanti from Redding CT
Work Description: Treatment of house for mice
Comments: On time, professional, exceeded my expectations in every regard.