`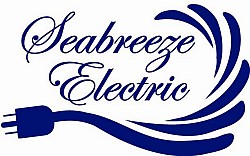 Prescreened by Networx
Seabreeze Electric Inc

Main Services:

Electrical

Years In Business:

2009

Company Overview:

Seabreeze Electric Inc is a highly respected electrical service, repair and installation company located on Long Island. Our dedicated team of skilled technicians are available 24 hours a day, seven days a week. Whether a home or business, we treat our customers' property as if it were our own. We accept only the highest quality in workmanship and value.

Good customer service is a hallmark of Seabreeze Electric Inc. We take pride in giving excellent customer service and that makes us stand out from the rest.

We take care of all your electrical needs, from installing a new circuit for additional equipment or appliances to changing out an electrical panel, and complicated electrical troubleshooting. Rely on our professionals who understand the challenges of electrical work.

Website:

http://www.seabreezeelectric.net
Reviews By Customers
Review by: Diann zummo from Sayville NY
Work Description: Electrical issues with dryer
Comments: So pleasant. Came same day I called. Went crazy looking for problem with problem wiring in my house. Had to order new dryer & they came back to hook it up. Would definitely highly recommend Seabreeze Electric to my friends. In fact we have advertised them in our community clubhouse with a business card they gave us.
Review by: Diann Zummo from Sayville NY
Work Description: Had problem with dryer. Mike & his partner were fantastic searching for problems in our electrical box. Even searched our attic for issues.
Comments: Seabreeze Electric went above & beyond in service. Actually having them come back to do additional work. Friendly & helpful. Would highly recommend them to anyone needing electrical service.
Review by: p krause from Commack NY
Work Description: Problem solved with efficiency :grounding wiring in outlets
Comments: Definitely am using again. Michael was extremely knowledgeable
Review by: Pam Peterson
Work Description: Bringing in another electrical line to my LR to prevent a breaker from going off and turning off lights, TV, etc.
Comments: Nice, informative, on time, did a great job.
Review by: L Novak
Work Description: Electric was going out on one side of the second floor in our house. The first electrician we had wanted to rip apart our walls to search for the problem. Seabreeze knew immediately it was the breaker panel.
Comments: Seabreeze is fantastic. They explained everything to me so I knew what was happening and could feel comfortable with the work. I have a phobia of electricity and they were extremely patient with me. Their price for the work was more than reasonable and they arrived right on time! I will call them for any electrical need that ever comes up in my home.
Review by: john denniston
Work Description: Rewiring of house
Comments: I want others to know that these men arrived on time to offer a proposal, were thorough, sensible and forthright concerning the building and our needs. They submitted their proposal within hours and seem like people who are easy to work with. I was impressed that two representatives came out to look over the job. At this time it will be several weeks before we make a decision as to what company we will use as we await other submissions of proposals. I do want others to know that Seabreeze is impressive, at least, in the proposal stage of doing business.
Review by: Felix Lopez from Medford NY
Work Description: Trouble shooting circuit breaker or/or outlet. replaced outlet and reset circuit breaker properly.
Comments: Very good communicator, worked efficiently and price was fair. Will be doing more work with with company.
Review by: Mary Throckmorton from Patchogue NY
Work Description: Diagnose problems and quality of existing system Replace faulty kitchen outlet Mount "'over stove" microwave Create two new electrical outlets
Comments: Mike and Joe from Seabreeze Electric seem to really know electric systems. They took their time evaluating what needed to be done and didn't try to suggest things that didn't need to be done. They are knowledgeable and courteous, and I think their quote is reasonable. They are very busy so there may be a "wait time" after the initial evaluation if the problem is not an emergency. Worth the wait.
Review by: Jerry from Southampton NY
Work Description: installed 40 amp stove line
Comments: kept appointment even though it was snowing and roads were bad.