`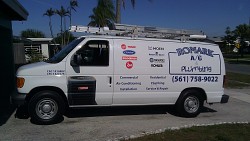 Romark Plumbing & AC
Romark Plumbing & AC

License:

CFC1427574

License:

cac1816882

Main Services:

Plumbing service,repairs and installations

Years In Business:

2007

Company Overview:

Romark A/C & Plumbing has more than 25 Years plumbing experience
Romark provides professional service with prices that won't break the bank.
Reviews By Customers
Review by: joe Dimino
Work Description: Installed How Water Heater
Comments: On time, clean, quick response, very helpful in the removal, obtaining the new Water Heater, and installation. Very good to do business with. Would recommend them to others.
Review by: Milli Lavin from Boca Raton FL
Work Description: Change toilet, change seal.
Comments: Very professional, fast and I felt that they knew what they were doing. Defenitely they are plumbers for my house. Thank you.
Review by: Douglas Moss
Work Description: Well executed, punctual, clean and professional
Comments: all you expect from a professional group and more was experienced from this company and we were more than pleased with the efficiency, neatness, courtesy and quick response and repair they gave us.
Review by: Catherine Molfetto
Work Description: Robery removed the washer hoses from the wall that were rusted on. He had to mini saw and pry the metal open. He was conscious of the water left in the hoses and neatly placed them in a bucket so no water would drain onto the floor.
Comments: Romark Plumbing responded immediately to the equest I submitted through this site network. Robert Yoder called me directly and succesfully completed the job neatly and efficiently.
Review by: Stacy Librae
Work Description: Romark has handled my pluming, installed a water heater, dish water, garbage disposal, and my air conditioning.
Comments: I have been using them for several year now. Every job is done perfectly, quickly, and at a good price.
Romark Plumbing & AC Replied:
Thank you Stacey, you are a valued customer and look forward to taking care of all your service needs for years to come :)
Review by: Barbara Addicott from Loxahatchee FL
Work Description: Bathtub installation
Comments: Romark Plumbing is a wonderful company! Robert, Chris and Ernesto are honest, hardworking, pleasant people. They were always available to answer my calls when I had questions or concerns and never made me feel like I was bothering them. They did an excellent job and they were reasonably priced. I will definitely call them again if I need a plumber. It was a pleasure doing business with them!
Review by: Howard Lipman
Work Description: He handles all my plumbing needs.
Comments: Robert is a good guy.
Romark Plumbing & AC Replied:
Thank you Howard, your business is always appreciated.