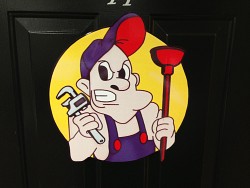 Prescreened by Networx
Ridgeway Mechanical Plumbing

License:

MP208831

Main Services:

Water line repair,Sewer and Drain line repair, Leak Detection,

Years In Business:

29

Awards:

Best of Atlanta 2009

Company Overview:

We offer a wide range of plumbing repair and installations services. With so many plumbing fixtures, appurtenances, system variations, and possible complications with modern code requirements, the extent of plumbing repairs and modifications has expanded drastically from years past. From simple leak repairs to complete tankless water heater installations and everywhere in between, there is no job to big or small. Here is just a short list of some of the services we offer, all back with a full warranty:

Atlanta Water Lines (outside)
Replacements, repairs (replacements carry 25-year warranties)

Atlanta Sewer Line Repair
Replacements, repairs, cleanout installations, cleaning and root removal

Atlanta Water Heaters
New installations, repairs, tankless units, code upgrades

Faucets and Sinks
Replacements, repairs, upgrades

Toilets
Replacements, repairs, new installations

Drains
Repairs, replacements, re-piping, cleaning/unclogging

Atlanta Leak Detection
Accurate and precise, newest equipment, trained technicians

Gas Lines
Repairs, new installations, additions, code upgrades

Disposals
Replacements, repairs

Sewage Ejector Pumps/Sump Pumps
Replacements, repairs, code upgrades

Atlanta Remodels
Bathroom additions, upgrades, kitchen add-ons, etc.

This is just a SMALL list of the MANY available Atlanta Plumbing services we offer. Please do not hesitate to ask for ANY plumbing service you may require. With over 150 years of combined technician experience, we are well versed in all areas of plumbing repairs. Our technicians are constantly being brought up to date and certified in the latest advances in our field, so you can be sure we are ready to tackle the toughest plumbing situations.

Our Atlanta plumbers have over 100 years combined experience in the Atlanta plumbing industry. We are by far, the most professional, honest, and friendly group of plumbers in the area. We take a great deal of pride in each and every job we service and we always stand behind our work. Call today to ask about our FREE guarantees and warranties that come with each and every job that Atlanta Plumber services.

Website:

http://www.ridgewaymechanical.com
Reviews By Customers
Review by: M.
Work Description: Ridgeway Plumbing repaired a leak under the ground.
Comments: They did a fantastic job. I can't sing enough praises about them. General Wheeler even sent them a certificate of appreciation for the work they did.
Review by: J.
Work Description: They installed a new water line and worked on my water heater.
Comments: I am very satisfied with their work. They are very professional.