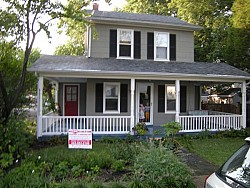 Renaissance Custom Painting & Remodeling Inc.
Renaissance Custom Painting & Remodeling Inc.

License:

123560/90436

Main Services:

Residential and Commercial Painting and Remodeling services

Years In Business:

26

Company Overview:

Renaissance Custom Painting & Remodeling Inc is more than just a painting company; we are an interior and exterior Baltimore area home remodeling company, with more than 21 years of proven experience. Renaissance Custom Painting & Remodeling Inc provides its customers with the highest quality service giving you our 100% Customer Satisfaction Guarantee. We are confident in our promises and we assure our customers of our reliability and experience! Never lost a customer since we opened our doors! We specialize in residential home improvement, rentals remodeling, repairs, finishing, and commercial painting and remodeling. Our services include but not limited:
Interior Home or Surfaces - Paint or Stain Complete Interior and Exterior Painting.
Painting or Staining - Small Projects.
Refinish hardwood floors - Refinish patios, garage floors. Custom metal restoration and refinishing, Base and Crown molding installation and refinish. Sheetrock and repair, retexture, Multi - Color wall color systems, Oil Base for trim, kitchens, or bathrooms, Restoration Specialists all phases any surface, Staining, custom clear refinishing, Acoustic Ceilings or textures, Paint removal, and restore surfaces, Handyman tasks - Weatherproof, Custom Homes, Apartments, Condos, power washing, treat and refinish, Decorative Painting, Deck Stripping, Custom Cabinet restorations, Kitchen and bath restoration, Wallpaper removal and refinish, Acoustic Ceiling Remove and refinish, Wood trim restorations, windows, doors, stucco, metals, wood siding, sheetrock install and refinish, and still more! Insurance Work is Welcome.
Our Wall Paper expertise includes but not limited to: Designer consultation, Painting & Wall Preparations, Removal of paper, Wall covering installations, Wall covering, Various styles and trends of wall covering ,Decorative Wall papering, Decorative Wall covering, Commercial Vinyl , Stripping, Weathered-Stone, Ceiling Wall papering, Custom Installations, High End papers, and more!
Attention first time customers: Mention this ad and receive 10% off total price for projects over $500.
Contact us for a free quote at krcprinc@aol.com


443-824-2189
Reviews By Customers
Review by: K. C.
Work Description: Work has not started yet.
Comments: Oleg, was very professional. He had a wonderful portfolio and took a lot of time with me.
Review by: C. S. .
Work Description: Powder room remodeling,master bathroom remodeling (steam shower),replacement of the vanity,toilet and pocket door in the basement bathroom,installation of the hardwood floor in the master bedroom and hall way and engineering floor in the basement area.
Comments: Great company,reasonable prices,high quality of service.If they start a job,never leave you and go to another job until you be 100% satisfied.High quality service,very recommended.
Review by: C. N.
Work Description: Full bathroom remodeling,painting all second floor,fens replacement and more.
Comments: High quality work,reasonable prices,coming at time and never left us in the middle of the project,always perfect finished job.
Review by: S. G.
Work Description: Interior painting, floor refinishing, trim work, exterior painting
Comments: Beautiful work -- very detailed and fast at the same time. Made sure everything was done right and the way we wanted it. Very knowledgeable, hard working, skilled and trustworthy.
Review by: H. K.
Work Description: Interior painting and remodeling of 2 bathrooms
Comments: Great service,reasonable prices,honesty and exceptional quality of work. Very recommended.