`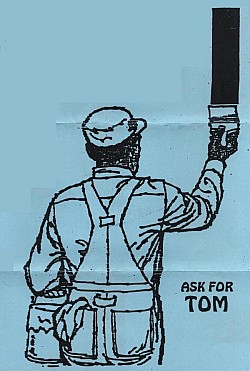 Prescreened by Networx
Reliable Painters

Main Services:

Commercial Painting, Residential Int/Ext Painting, Plastering, Wallpaper Removal & Wallpaper Hanging

Years In Business:

1981

Awards:

Best of 2012 Manhattan

Company Overview:

At Reliable Painters, no job is too small and we are happy to work within your budget. Reliable Painters is family owned and operated, serving Manhattan for 25 years. In that time we have played a vital role in more home projects than you can imagine and we are on the cutting edge of the latest styles and trends. Our interior and exterior painting services are top notch and range anywhere from baseboard installations to surface preparation and textured paint. We also do professional plastering for old style, pre-war, and new style buildings. Here at Reliable Painters, you can count on us. We do sheet rock and framing, no job is to small. We do commercial, residential, and professional wallpapering for Commercial and Residential. We also do stripping, refinishing and staining as well as experts on wallpaper hanging and removal.

For service we can be reached at 212-316-2919, or 914-943-1313.

We accept all major credit cards.

Press Release

FOR IMMEDIATE RELEASE

Reliable Painters - Painting Company Receives 2012 Best of Manhattan Award

Manhattan Award Program Honors the Achievement

MANHATTAN October 21, 2012 -- Reliable Painters - Painting Company has been selected for the 2012 Best of Manhattan Award in the Painting Contractors category by the Manhattan Award Program.

Each year, the Manhattan Award Program identifies companies that we believe have achieved exceptional marketing success in their local community and business category. These are local companies that enhance the positive image of small business through service to their customers and our community. These exceptional companies help make the Manhattan area a great place to live, work and play.

Various sources of information were gathered and analyzed to choose the winners in each category. The 2012 Manhattan Award Program focuses on quality, not quantity. Winners are determined based on the information gathered both internally by the Manhattan Award Program and data provided by third parties.

About Manhattan Award Program

The Manhattan Award Program is an annual awards program honoring the achievements and accomplishments of local businesses throughout the Manhattan area. Recognition is given to those companies that have shown the ability to use their best practices and implemented programs to generate competitive advantages and long-term value.

The Manhattan Award Program was established to recognize the best of local businesses in our community. Our organization works exclusively with local business owners, trade groups, professional associations and other business advertising and marketing groups. Our mission is to recognize the small business community's contributions to the U.S. economy.

WE MAKE YOUR BUDGET MEET YOUR VISION.
Reviews By Customers
Review by: Julie from New York NY
Work Description: Tom and his painter did a great job wall painting and wall papering in my apartment. Fair price, great work ethic, and reliable. Highly recommend if you are looking for a good painter.
Review by: Max Moyet
Work Description: Skim coating, painting
Comments: I've been using Thomas on and off for over ten years whenever I've needed painting or skim coating done in my apartment. He's always been incredibly reliable, trustworthy, always on time, and the price is always reasonable. My two favorite things about his work ethics - 1. He specializes in wet sanding, which very few painters have perfected. I have dogs, and am always worried about what they may inhale. It doesn't sit well having someone sand in my apartment, where they're creating a huge dust-cloud and my dogs are breathing it in. With Tom I never have to worry about that, because he is an expert at wet-sanding. 2. His extensive knowledge and experience when it comes to painting and paint products. Whenever I have a question, he always has the right answer. Whenever he is done with a job, he will leave my apartment in the same order as when he came - he will leave it like he was never there in the first place. As long as I continue to live in New York City, Thomas and his crew of helpers will always be my first choice when I need skim coating or painting done. I hope this review is helpful, and you too will make him your first choice. Sincerely, Happy Customer :)
Review by: Damien Cho from New York NY
Work Description: Painting the whole apartment
Comments: Thomas and his team did a great job. Punctual, clean, and knowledgeable. Definitely recommend these guys.
Review by: Marcos Soto from New York NY
Work Description: Painting job, complete loft!
Comments: Great guys to work with! Very very happy with the result! CAN highly recommend! Marcos Soto
Review by: Inez Jessop from New York NY
Work Description: repair & painting
Comments: very nice -- worked with me
Review by: Marisa
Work Description: Thomas and Brian of Healthy Painting did a fantastic job painted my junior 1 bedroom apartment. They are kind, helpful, attentive, and strive for perfection! The price was very reasonable and Thomas was readily available for communications, walk throughs, and sharing his professional opinion in a supportive manner. Brian so carefully prepped and painted in full and Thomas did the detailing...they are a wonderful team! I couldn't be happier with the results!
Review by: marcel herbst from New York NY
Work Description: painted a large garden wall in manhattan over a two day period.
Comments: great - very reliable, fair, hard working.
Review by: Lauren Giordano
Work Description: Painting
Comments: Tom the painter was good and reliable, and his workers were trustworthy.
Review by: Jennifer Herrera from New York NY
Work Description: dismounted picture and mailbox, spackled wall, and painted.
Comments: Thomas was fast, on time.. and gave me no problem at all.
Review by: Timothy Dunlap
Work Description: basement and bath paint job
Comments: I found Tom and his team of painters to be quite good company and great at doing the painting. I had a basement with a bath addition, so needed a paint job. I couldnt do everything at once so 6 months later I saw the flyer on my car, and called..
Review by: Annie D'Luhosch
Work Description: Thomas and Greg were outstanding! Honest, detail oriented, hard-working, clean, and conscientious. They did a 2.5 day job in 12 hours and didn't miss a thing or skip on quality. Thomas and Greg cleaned up after themselves and were always concerned with my satisfaction with the work being done.
Comments: Thomas and Greg spent a long day with me in my apartment and it was a pleasure and actually fun having them there. They did a wonderful job and I would hire them again in a heartbeat. I HIGHLY recommend Thomas and Reliable Painters.
Review by: Ali C from New York NY
Work Description: Thomas and his crew were very thorough, tidy, clean, and paid close attention to specifics. They cleaned up all the paper and tape they laid down, and any little drips on the floor that may have happened during the day before they left. Thomas has the eye of an artist, and takes pleasure in exacting the details.
Comments: In addition to doing an excellent job, Thomas and his crew were pleasant company. I was cleaning my new place the entire time they were there and felt completely comfortable. I have saved his number and will recommend him to my friends in the area who need some painting done.