`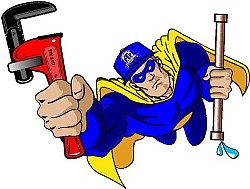 Pro Tech Plumbing and Rooter Service LLC
Pro Tech Plumbing and Rooter Service LLC

License:

ROC-238402

Years In Business:

2007

Company Overview:

Welcome to Pro-Tech Plumbing: The Phoenix Plumber! My name is John Benedict and I want to help you with all of your plumbing problems and upgrades.

Personally, I've been in business for over 15 years and my team and I collectively have been in business for multiple decades. You can learn more about Protech Plumbing and myself here.

Here are the services that I offer. However, I know that sometimes plumbing has unique issues that require the creative mind to fix permanently. If you have a situation like this, call me to set up a consultation and free estimate.
* Toilet repair and replacement
* Faucet repairs, clogs, replacement, and upgrades
* Re-Piping of sections of a house or everything
* Sewer line replacement and repair
* Video inspection of sewer lines
* Slab leaks
* Bathroom and kitchen remodeling

We can do all plumbing you need done because remember…
"If You Have Water Running Through It… We Do It!"

Thank you for visiting and I look forward to meeting you in person and providing you with the best plumbing service possible. Please call:
480-985-4749

Mention you are a new client and get a 25% new client discount on the work you need done.
Reviews By Customers
Review by: Sue VanVoorhis from Queen Creek AZ
Work Description: Replaced undermount sink, garbage disposal, faucet, toilet.
Comments: Great company to work with on very difficult issues. Will recommend to others. Punctual and professional.
Review by: Jackie from Chandler AZ
Work Description: Had to lower the outtake valve from the water heater to be only 2" from ground.
Comments: John was wonderful. He did a great job and didn't over charge. ( I didn't think). I just bought the house and couldn't move in til this was done. He even came on a SATURDAY!! Jackie
Review by: Mark Theisen
Work Description: An all around nice experience. clean, professional and very prompt. I would definitely use their service again and would reccomend the company to friends and neighbors. Both toilets were rebuilt and are operating perfectly.
Comments: See "description of work"
Review by: Andria H. from Gilbert AZ
Work Description: Pro Tech installed a kitchen faucet as well as replaced a leaky valve. Pro Tech also unclogged a toilet that has not run well for over a year.
Comments: Pro Tech exceeded my expectations. They showed up on time, walked me through the work they would do, and quoted me a very fair price which was firm (and did not try to add anything on at the end etc). It has been about a week and the items they worked on are working great. I would definitely recommend this company.
Review by: Patricia Keith from Phoenix AZ