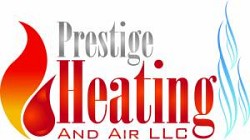 Prescreened by Networx
Prestige Heating and Air

Main Services:

Hvac Service

Years In Business:

4

Company Overview:

With over 17 years experience Prestige Heating & Air is here to meet your heating and air conditioning service needs with quick, dependable service. We're open seven days a week, and provide 24 hour emergency service because "Your Comfort is our Priority".

•Service and Repair
•Equipment Preventive Maintenance Services
•Indoor Air Quality Solutions
•Air Filtration Products / High Efficiency Air Cleaner
•Zoning Systems
•Heat Load Calculations
•Carbon Monoxide Testing
•Energy Management Systems
•EPA Certified Service Specialists
Reviews By Customers
Review by: D.
Work Description: upstairs unit was not cooling. low freon.
Comments: Initial call went straight to the owner of the company. Owner is the HVAC Tech. Came out within 2 hours of call. He added the freon and let us know some of the reasons it could be low but did not try to pressure us into additional service or parts that we do not need. Excellent professional service.
Review by: B.
Work Description: Repair. Got the cold air blowing again!
Comments: Awesome service. Was here win 4 hours, right before a big holiday! He called seconds after my inquiry. Had a couple of jobs to handle before mine, but arrived right when he estimated. Very professional and courteous. Took the time to explain things in lay person language. Had the needed parts on his truck! Took his shoes off & asked all the right permissions. Amazing job at an amazing price. Will definitely use again and recommend highly. Hard working honest guy.
Review by: J. W.
Work Description: i WASN'T GETTING ANY HEAT.
Comments: First of all he was in my home when he said he would. checked the problem out .explain everything ,fix the problem, and call back to see was everything OK
Review by: Customer
Comments: Thank you Joe! You gave great service, helpful and explained what you were doing. Most of all you got the Job done. Thank you Joe
Review by: N. P.
Comments: I will contact this company again!!! Great service.
Review by: D. C.
Review by: D. H. .
Work Description: They installed an HVAC unit.
Comments: They provided excellent service and made us comfortable with their work. We are sure they would make other people comfortable with their work too.
Review by: S. R.
Work Description: Replaced my entire heating/AC system
Comments: Joe at Prestige did a great job! His manor was curious and professional. He was on time and was able to complete a difficult job in a very short time. He is very knowledgeable and was able to help me identify the right unit for my home before work began, although I had many options. My new unit functions and looks great. Joe's work is very neat and professional. His attention to detail put us at ease. I'm very happy that I used Prestige to do this work on my home. I have already recommended Prestige twice since to friends of mine and will continue to do so. Don't waste your time researching other companies. I already did that. Call prestige. You'll be happy you did. I am.