`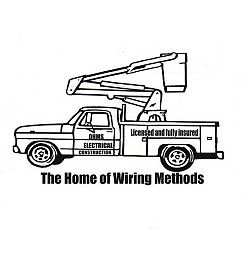 Ohms Electrical Construction
Ohms Electrical Construction

License:

224

Main Services:

residential, commercial, brand new homes, additions, switches, outlets, heaters, fire alarms

Years In Business:

1998

Company Overview:

Ohms Electrical Construction - The home of wiring methods. We are your locally owned and operated licensed and insured electrical contractor serving the greater Poughkeepsie and surrounding areas. We service both residential and commercial customers. We work on brand new homes and our services include: additions, switches, outlets, heaters, fire alarms and more! Whatever your problem is, Ohms Electrical Construction will service you. Ohms Electrical Construction beats all electrical estimates by 10%. With 13 years experience as an electrical contractor we are confident once you have Ohms work on your next job, you won't go anywhere else. We pride ourselves on professionalism and honesty on top of our quality work. Call us today for a free estimate and have Ohms start working for you!

You can also visit us at http://www.ohmselectricalconstruction.com
Reviews By Customers
Review by: Brian Gleason
Work Description: Omar was very thorough and spent alot of time helping us figure out the best system to run a generator off our Prius. He also came and did a few odds and ends (electric) and charged us a minimal fee. Both he and his helper Lloyd were efficient and caring.
Comments: This was new territory for Omar as he had never hooked up a hybrid car battery to a home electrical system. He spent extra time discussing the process with the company I purchased the inverter from and built a platform to hold the inverter near our electrical panel. He was honest, diligent and curious to see how it all worked out. I trust him to do any electrical work in my home.
Review by: Dennis Codrington
Work Description: Job1: 200A service upgrade Job2: 20KW electric generator installation
Comments: Ohms Electrical Construction has upgraded my electrical service from 100A to 200A; and most recently installed a 20KW electric generator for power backup. I am very satisfy with the quality of work on both jobs.
Review by: John John from Poughkeepsie NY
Work Description: Diagnose and fix faulty sockets and discuss general electrical service for house.
Comments: Great service - very satified with it.
Review by: Ceil Berlin from Rhinebeck NY
Work Description: Workmen were efficient, quick, did good work, were courteous. Essentially very, very good.
Review by: Gayle
Work Description: All the electrical breakers and panel replaced.
Comments: I found OHMS on on the web, as I have never needed an electricial before. There was a spark sound in the panel and I was very fearful of a fire. i called on a Saturday and they came the same day. They were pleasant and professional. They applied the immediate fix but clearly suggested the total work that needed to be done, without being pushy. They gave me the approx price and time frame of the job. I called a few days later and made the appt. They completed the work timely and with quality and stood by their quote they gave me the previous week. I was also impressed by the follow up call at the end of the day to ease my mind and reiterate they stand by their work and to contact them with any questions. I would certainly use them again, as well as recommend them to friends and family. Thank you!!!
Review by: Stan Pejchal from Wallkill NY
Work Description: Upgrating an extra electrical breaker box for purposes of connecting a new water heater.
Comments: Leader Omar carefully studied two possible ways how to get electric power to water heater and choose the most esthetic one and least messy. Every meeting was in time and work was done in expected time included a subcontract plumber.The quality of work was classified by electrical service inspector as exceptional. Thanks
Review by: Conrad Costa from Millerton NY
Work Description: Replaced kitchen GFI and checked all circuits to test the new GFI outlet.Also checked the circuit breaker to see that it was working correctly.
Comments: I would recommend Ohms Electric to anyone.The guys that came here answered all questions that I had,and they were professional about their work.They even moved some furniture to get to the outlet.Afterward they cleaned up everything.I would definately call them again.
Review by: Carole H.
Work Description: Replace Service Entrance Cable.
Comments: I would Highly recommend Ohms Electrical Construction!!!!! Omar and his assistant were very professional and pleasant to work with. Omar explained everything that had to be done and gave us a fair price. Omar takes pride in his work and it shows. Will use Ohms for all my electrical needs in the future. Thanks for such a great job !
Review by: Wilson Rosa
Work Description: Scope of Work to be performed by Ohms Electrical Construction .: - Remove existing 100 amp service - Furnish & Install new 200 amp overhead meter pan - Furnish & Install new 200 amp 40 circuit panel type Square D QO - Furnish & Install new conduit for new service cable through basement wall into panel - Furnish & Install new 2" Rigid conduit with new roof boot, and new cable support - Furnish & Install sealing compound for new roof boot - Furnish & Install new grounding electrode system (2 ground rods, new line to water main - Perform new 200 amp service hook up to Central Hudsons Specifications - Schedule and pay for electrical inspection
Comments: I'm very satisfied with the performance from Ohms Electrical Construction, expecially from Omar he is a honest and very resposible individual. Took me couple months to choose from 4 contractors. I'm 100% happy because the waitting time was worth it. Thank you Ohms Electrical Construction and thank you Service Magic to made it so easy to us.
Review by: Denise LeRoy
Work Description: Unexpectedly we received an immediate phone call from this company. ...I might add that is was extremely early in the morning...They responded with advice and direction to solve the situation. I highly recommend this company for immediate care and knowledge.
Review by: Sharon Logan from Wappingers Falls NY
Work Description: They showed up within 1 and 1/2 hours. Called back immediately. They switched a circuit breaker back on (it was off and I couldn't locate which one it was), suggested a solution to a pull switch having broken off - ie: replace with a line and an electrical switch and that's it. I will have other work (this is an apartment building) for them They charged me $75 for the advice and truning on the circuit breaker.
Review by: Daryl Brown
Work Description: Omar and his team were very accommodating in terms of getting to the work when we needed it performed. He and his partner worked behind the walls to install electrical as well as cable tv outlets for a flat screen we recently purchased. His team remained professional from our initial interaction to the completion of their work. I highly-highly recommend.
Review by: michael mardo from Accord NY
Work Description: electrical generator wiring
Comments: omar is the BEST
Review by: Beverly Cimorelli from Newburgh NY
Work Description: replaced circuit breaker box
Review by: Shane Davison
Work Description: My upstairs lights were not working. Omar from Ohms Electrical Construction diagnosed the problem and replaced a broken electrical wire.
Comments: I received a phone call from Ohms within minutes of submitting a request on this site. So far Ohms is the only company who responded to my request after one day. Omar was on site to start the repair less than 2 hours later. The repair took 2.5 hours and my lights are now working. Omar does great work and I highly recommend him .
Review by: Rosemary Strandberg from Monroe NY
Work Description: GFI outlet installed
Comments: They knew exactly what was needed to get the job done. Omar explained every detail of the job. Both Omar and Lloyd were so polite and they were very very neat after completion of the job. I would highly recommend Ohms Electrical to anyone who needs an electrician. They truly care about pleasing the customer . Very happy I've found them.
Review by: john swolfs from Brewster NY
Work Description: rewiring for boiler
Comments: They were extremely professional. they explained what had to be done . i would recommend them.
Review by: Ann Swolfs
Work Description: Had to hook up wiring from master bedroom to boiler. Had o remove sheet rock to find and fix the problem
Comments: He was very professional and explained everything that he was doing. He had a very pleasant personality and was quite accommodating. He was on time and his price was very fair. I would recommend him.
Review by: Thomas Canty from Suffern NY
Work Description: Wiring a three way switch to older wiring and boxes
Comments: Omar and his asst did a great job in figuring out how to make a three way switch to older wiring work by changing the configuration when others had failed at this job. They were neat, polite, and professional. I recommend Ohm's without reservation, to anyone with an electrical problem. T Canty
Review by: Tom Canty
Work Description: hooked up three way switch on complicated, old wiring, and technology from the 1920's
Comments: I would recommend Ohms Electrical Construction without any reservations. Omar and his assistant were knowledgeable,neat and affordable. Will use them if I ever run into electrical problems in the future.
Review by: Lisa Greene
Work Description: Added 2 new lines for AC and fridge and installed wiring and fixtures for outdoor lighting
Comments: Not only were they the only ones to answer the email from this service, but they did so in less than 5 minutes of posting and were on site within the hour. 4 days later they arrived with 2 workers plus the owner to install various wires that were badly needed. Their price was more than fair, the work clean and completed in a timely manner. I have nothing buy praise for their professionalism and will only work with them in the future if needed
Review by: Customer
Review by: linda yang from Garnerville NY
Review by: Devin
Work Description: Rewiring and installing new fixtures.
Comments: Showed up on time.