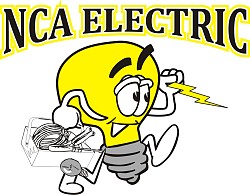 Prescreened by Networx
NCA Electric

License:

er13014511

Years In Business:

4

Company Overview:

:: Hi I'm Ned. The owner and president of NCA Electric LLC. Let me tell you a little about myself. I've been doing electrical work ever since my dad decided to start teaching me his trade. That's when I was 8. I've been an electrician ever since. I'm an electrician for high power in Europe and a master electrician here in the U.S. After 4 years of school here in the states , I had the wonderful experience of competing in the National Wire Off competition representing Florida. I won third place ! After school I opened up NCA Electric to share my skills with you. My goals are to give every customer fair, honest, and affordable rates. I vowed to be different then other company's out there, you know, the ones that can really break the bank. We give discounts to police men, firemen, teachers, seniors and more. We value every single customer we have and the ones to come. Also I promise to never tell a customer I can't do a job. There's a solution to every problem. So far there hasn't been one job I couldn't figure out. I've never had to turn down a job. So give us a try and I guarantee you won't regret it.

Website:

http://ncaelectric.com
Reviews By Customers
Review by: L. P.
Work Description: Replaced electric breaker panel and performed other electrical necessities.
Comments: nca Electric is an outstanding, professional business, They did their work on time, Work was accomplished without problems. Technician was very knowledgeable and a pleasure to work with. I would highly recommend his services to anyone. Work done was reasonably priced . Lino Perera
Review by: K. W.
Work Description: panel box replacement, upgrade, and move
Comments: NCA gave excellent service and the price was very reasonable. I am very happy with this service and we will continue to use NCA for out electrical needs
Review by: D. K.
Work Description: Half the house wasn't working electrically.
Comments: Ned had told me to check dryer and stove, which were lit up but weren't actually working. Very reasonable charge. It was actually an electric company issue.
Review by: M. . S.
Work Description: re wire kitchen
Comments: Super job,and what ever the customer wanted he did, Would highly recomend him. for any electrical work. Very knowledgeable.and very pleasent to work with.
Review by: R. A.
Work Description: assembled and installed new ceiling fan. removed old fan
Comments: ned was here on time. great attitude, fun to talk to. worked quickly and very efficiently. charged less than was quoted. i was very pleased with his work and would recommend him to any of my friends for electrical work.
Review by: J. Y.
Work Description: Repaired faulty breaker panel.
Comments: Deserves more than 5 stars. Ned is extremely responsive, insanely knowledgeable and his rates were the best around. He fixed everything quickly and was also really good with my curious cat and dog. If I ever need an electrician again in the future I know exactly who to call.
Review by: G. B.
Work Description: correct homeowner wiring error, install can lights and switch in ceiling.
Comments: I have found an electrician I will use again and again. Ned is everything you could want in a technician: prompt, neat, FAST, and he has a sense of humor. Plus he made fun of me only a little bit for the screw- up he corrected. He was great, and the final price was actually LOWER than the quote! When does that ever happen???
Review by: P.
Work Description: Install wiring for hot tub
Comments: Ned was a very nice gentleman and cleaned up after his job i would hire him again
Review by: E. H.
Work Description: Troubleshooting for source of problem
Comments: Ned was impressive. Within a couple of minutes, he pinpointed the problem and subsequently solved it. He helped me understand the electric panel and re-labled all the switches as together we checked what areas each switch was responsible for. I wish all service persons were as friendly, informative and trustworthy.
Review by: R. C.
Work Description: unlocked smoke detectors
Comments: done well and quickly