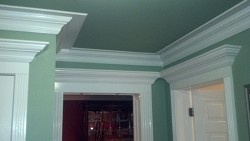 Prescreened by Networx
National Custom Renovations

Main Services:

Custom Renovations for Interior and Exterior

In Business Since:

1997

Company Overview:

National Custom Renovations is Licensed and Owner Operated for over 19 years. Customer Service is a Priority. Deal Direct with Owner, Expert Craftsmanship, All Work Guarenteed.

National Custom Renovations will help you design a personal space that is unique, comfortable and functional. Enhancing your home's interior or exterior will be made easy with National Custom Renovations. We offer you a vast selection of the right product at the right price. We can assist you in choosing your materials to complete your needs. Dedicated to customer service, Satisfaction Is Guarenteed.
Reviews By Customers
Review by: Daniela Mordente
Work Description: Bathroom and kitchen renovation, wood floor restoration and interior painting
Comments: I can not express enough, my gratitude and appreciation for Mike and his renovation team. The quality of the work they competed and professional manner in which it was completed by far surpassed my expectations. I am more then pleased with the outcome of the completed repairs in my home. I highly recommend Nation Custom Renovations to anyone who is looking for a team of highly motivated professionals in this field.
Review by: Joseph Isnardi
Work Description: Restored & renovated a family room after a pipe burst with excessive damage. Had them come back to sand and refinish our wood floors and replaced doors, moldings and renovated our office. In another emergency, came over at 11pm on Sunday night to repair another busted pipe
Comments: They exceeded our expectations! Extremely professional, on time every day, very trustworthy & reliable. We highly recommend National Custom Renovations, they went above and beyond for us...
Review by: Alex G.
Work Description: Crown/Baseboard/Door Molding & Interior Door Installation
Comments: Mike, Andrew & Fabi put the final finishing touches on the almost year-long project to completely update the look of my 1950's era house. After doing a lot of the work myself and time running out before the holidays, I knew I needed to get a professional for the hundreds of feet of molding and 8+ interior doors I needed installed. Mike and his crew listened to our concerns from estimate to finished product and delivered with quality work that cost us much less than any other estimate we had gotten for the job. Little touches such as doubling up casing in one area where an old door frame protruded out too far and taking care to run wired door alarms through door casing so that they could sit on top of it made Mike stand out from other contractors that I've used in the past. Fabi went around the entire house with me after the work was completed and ensured every aspect of the work was completed to my satisfaction. The work Mike and his team did put the final amazing touches on our finished interior, finishing before the holidays as promised. If you go with National Custom Renovations, you won't be disappointed.
Review by: Andrew Romano
Work Description: I had severe water damage to my home. National Custom Renovations quckly remediated the water damage. National Custom Renovations expidited all work, including handling the insurance company. The renovation exceeded our expectations, and was performed in a timely manner. The upper and lower levels of the house had to be gutted as well as kitchen and bathroom.
Comments: I highly recommend National Custom Renovations for all renovation needs.
Review by: Mr & Mrs Kevin Maguire
Work Description: Misc. home inprovements including bathroom, porch, windows, kitchen.
Comments: Back in 2002 my husband Kevin and I bought our first house which was a fixer upper. The house was in need of immediate repairs. Michael Catapano was referred to us through a friend. At first we were hesitant and didn't know what to expect, because every estimate we had prior was very expensive and we felt overpriced. Mike sat with us very patiently and went over with us what we wanted to do and what our priorities were. His estimates and suggestions were very fair and reasonable, so we decided to hire him to do our work. We found that his work quality and efficiency exceeded our expectations. Mike Catapano is very good at what he does and I would highly recommend his services.
Review by: Anna kemp
Work Description: Rebuilt a 54 year old bathroom in my home. Gutted and rebuilt floors and walls. All retailed
Comments: Most conscientious person I've ever dealt with. Found him to be very honest and trustworthy. This was the third time I've used this company to do work in my home over a 6 year timeframe. When I'm ready to add an additional room to my home, I'll call this contractor again. Very pleasant experience.
Review by: Kevin Murphy
Work Description: He has painted houses, re-finished floors, moved a staircase in our house, did a roof for us on one house, installed a new front and back door, and waterproofed part of another house.
Comments: Michael is a contractor we have used many times over the years. I can't recommend him highly enough. He and his crew are highly skilled.