`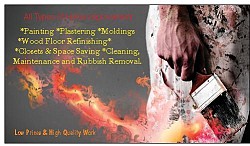 Michael Angelo Interior Painting & Contracting
Michael Angelo Interior Painting & Contracting

Main Services:

Full Service Residential and Light Commercial Contractor ,home improvement services, painting, plastering, moldings as well as interior renovations

Years In Business:

2000

Company Overview:

Michael Angelo Interior Contracting is a New York based residential and commercial interior contracting company that has been serving the 5 boroughs with extraordinary service and craftsmanship for nearly a decade. Our quality workmanship has earned us a reputation as one of the city's premiere interior contractors. We specialize in home improvement services, painting, plastering, moldings as well as interior renovations, add-ons and remodeling. We are experts in paint and decoration and experienced in all types of artisan work on brownstones and Victorians. We not only promise to deliver beautiful results; we promise a pleasurable experience. We handle everything from prep to clean up. And, yes, we do leave the site absolutely clean. We guarantee a professional job every time. At Michael Angelo Interior Contracting, we offer a complete service. We never leave a mess, or unfinished work. You can count on us Call Us For Your Free Estimate!
Reviews By Customers
Review by: Joseph Clemente from Brooklyn NY
Comments: These guys do a great job and they really go above and beyond and make sure you are 110% happy. We will absolutely recommend them to anyone we know who needs any paint work and some done they did a fantastic job!!! Thanks guys - Sharon and Joe
Review by: WilliamsburgBKLN
Work Description: There was a fire in my apartment that created a 4 foot hole in one wall with tremendous smoke damage across the wall and ceiling. They fixed it so perfectly it is as if it never happened.
Comments: Excellent work, very fair pricing, very friendly and kind. Really took care of the damage and made a stressful situation much less stressful.