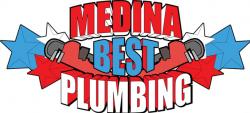 Prescreened by Networx
Medina "BEST" Plumbing

License:

m-38441

Main Services:

Residential, Commercial, Remodeling

Company Overview:

Medina BEST Plumbing, with 20 years of experience we can take care of all your plumbing needs. We repair/replace faucets, toilets, water treatment, and water heaters or if you have anything that requires gas, water or drainage to be worked on, we can help you. 6 month warranty on most repairs and 1 year for parts and labor on new installations. Quality and Integrity is our pledge to you. San Antonio's BEST Plumbing Solution.

Website:

http://www.medinabest.com/
Reviews By Customers
Review by: C. P.
Work Description: gas pipe within the house
Comments: Very helpful, came out on a Saturday. Good Guy!
Review by: S. B.
Work Description: Unclogging a stopped up lavatory and in another bathroom, unclogging the slickest jets underneath the toilet bowl.
Comments: The company owner contacted me within an hour after I posted what work I needed to have done on my two bathrooms, and his workmen arrived about an hour earlier than I expected to do the work! The only problem I ran into was that they cracked some plastic tubing in one bathroom and charged for replacement!!!
Review by: J. S.
Review by: O. G.
Work Description: Troubleshot Electric Water Heater Heating Element was good... Thermostat was changed...
Comments: Not at all satisfied I did not receive an invoice after paying cash for service call and parts/labor.
Review by: D. C.
Work Description: check gas meter and found leak, turned off gas and notified me to call CPS
Comments: very professional, on time,quote for projected was reasonable and accurate. Plan to nofify other home owners about this company and use it again in the future!
Review by: V. R.
Work Description: Hot water heater installed.
Comments: Very prompt service. Courteous and professional. More expensive than anticipated but hopefully the adage you get what you pay for holds true and we won't have to replace this hot water heater as soon as the last one.
Review by: C. S.
Work Description: A rooter service was performed and the plumber was very prfessional and knowledgeable of his trade.