`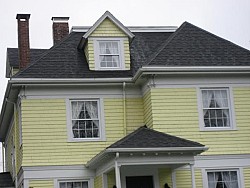 Prescreened by Networx
M. Ness Inc.

License:

105040

Main Services:

Roofing, Gutters, Rubber Roofs, Vinyl Siding, Emergency Repairs, Ice Removal and Asphalt Roofs

Years In Business:

1979

Company Overview:

Our roofing company is dedicated to service. We specialize in residential and commercial roofing and have been in business for over 30 years. We only use quality materials and are dedicated to completing each project in a timely manner. Outstanding roof repair service and superior track record. We have the perfect roofing solution for your home or office. Financing can be arranged for your convenience. You can also reach us at (508) 823-0303. Give us a call today for a Free Estimate!!

Website:

http://www.mnessroofing.com
Reviews By Customers
Review by: Lou Viera
Work Description: Complete roof replacement
Comments: I contacted Ness roofing in June 2012 after a heavy rainstorm I noticed wet spots in various locations in my attic, causing large stains to appear on my living room ceiling. Mr Ness inspected my roof and gave me the news with 2 options with 2 different prices and then gave me his professional honest recommendation, I agreed with his recommendation and I'm glad I did. With all the heavy rain we had there wasn't a wet or damp spot anywhere in my attic where in the past I would find some wet spots here or there. Ness roofing used top notch products. The crew was fast, efficient, courteous and professional. The whole job was done in 2 days, they cleaned up everything at the end of the day, it looked as if they weren't even there. The roof looks great. Great professional service with a very good price, I'm very happy with the work.
Review by: Colette Boudreau from Roslindale MA
Work Description: Repair hole in roof and downspout that were damaged by Hurricane Irene and reattach gutter that was loosened by winter storms.
Comments: There was a hole in the roof caused by a falling branch. Also, the gutter was loose and part of the downspout was crumpled by falling branches. Dave looked at the roof, went out and bought the correct roof shingles, came back, repaired the roof and then reconnected the gutter and replaced the section of downspout with a new piece. He charged me $10 more than the original quote, but still was a very reasonable (under $400), especially since he didn't know what he was going to replace. And I was quoted $100 more by a roofer that a friend recommended.
Review by: walter perry from Avon MA
Review by: suzanne cosgrove
Work Description: snow and ice removal from the roof of my house.
Comments: the service and the work was good ,the price was quite high. I paid $825.00 for the removal and everyone of my neighbors that had the snow removed paid any where from $75.00 to $300.00. I realize the size of the roofs and the extent of work done vary, however I feel my price was quite excessive.
Review by: Cathy
Work Description: We have 20 buildings and he has either installed new roofs or done repair work for us.
Comments: In the 14 years of working together he has been very reasonable, fair and does quality work. His staff is very professional and works great with us. We wouldn't use anyone else.
Review by: Customer
Work Description: David, Just wanted to thank you again for the work that you and your well mannerd help performed at my house. I enjoy spending evenings relaxing on my new deck and admiring the new roof above. I was very impressed with the immaculate condition my property was left in at the conclusion of the project. Sincerely,
Comments: Kathleen O Reilly Avon, Ma.
Review by: Customer
Work Description: I was so impressed by the professionalism and expert workmanship that I will be happy to recommend your firm to my friends. Thanks again.
Comments: Bob Gorman Raynham, Ma.