`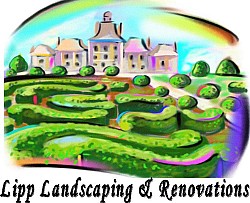 Lipp Landscaping & Renovations
Lipp Landscaping & Renovations

License:

13VH06025600

Main Services:

Full service property maintenance Company and will handle all your Handyman needs as well Full Construction and Additions

Company Overview:

Our company, Lipp Landscaping & Renovations, has been servicing NJ and parts of Pennsylvania for the last 8 years. We are a full service lawn maintenance company for residential and commercial customers. Some of our services include Lawn maintenance, Flower Beds and Gardens, Clean-Up, Bush Trimming, Removal of Decks, and any other needs you may have. We also will do all your painting interior and exterior and will fix anything that breaks. There is nothing our company can't do to make your home and property a showplace. We pride ourselves on prompt, courteous and professional service. We go above and beyond in customer service. Give Lipp Landscaping and Renovations a call today for any of your landscaping needs and a free estimate.
LIPPLANDSCAPINGRENOVATIONS@YAHOO.COM


.
- HARDSCAPING

-----Pavers
-----Stone
-----Etc
-----Concrete and side walk

- FULL LANDSCAPING SERVICES

-----Gardening
-----Lawn Mowing
-----Mulching
-----Irrigation
-----Excavation
-----WATER FEATURES


- WOOD DECKS

-----Installation
-----Removal


- FENCING

-----Wooden Fences
-----Steel Grade Wire Fencing


- ALL SEASONS CLEAN-UP

-----Spring
-----Summer
-----Fall
-----Winter


- TREE SERVICE

-----Tree Trimming
-----Stump Removal
-----Brush Removal
-----Tree Removal

- FIREWOOD DELIVERY



- HOME MAINTENANCE

-----Gutter Cleaning
-----Gutter Flushing
-----Scrap Removal
-----Window Washing
-----Power Washing
-----PAINTING





- And Much Much More, Including Commercial and Residential Removal and/or Installation of all type of Carpeting, Indoor and Outdoor.
Reviews By Customers
Review by: Dave
Work Description: Remove patio pavers and seed the area
Comments: Easy to work with. Met me half way on issues. Worked hard when they were on-site.
Review by: John
Work Description: Tree work
Comments: Best over all company I ever worked with!
Review by: Laura C - Hunterdon County
Work Description: Yard clean up, leaf, limb, weed removal. A back breaking job!
Comments: Joe Lipp provides excellent service and strives to meet your objectives. His crew worked hard and was very courteous. I would DEFINITELY call upon them again!!! Thank you!
Review by: irene hermann from Hillsborough NJ
Work Description: snow removal
Comments: I was very satisfied with their service. They were very professional. As soon as I submitted my request they responded immediately. They called me that they were running late and needed additional directions. I was shocked that they offered to shovel around my car and push it out.I would definitely use their service again. They get an A+ A+ A+ from irene hermann - irenehermann@ymail.com
Review by: norma anderson from Cranford NJ
Work Description: lawn maintenance, fall cleanup, leaf clearing from garden beds and lawn.
Comments: Joe is a communicative gentleman, with a friendly co-worker. They definitely personified your guarantee of professionalism, reliability, and integrity.
Review by: Russell from Stewartsville NJ
Work Description: Front lawn and backyard mowed.
Comments: We are very satisfied with the work from this company.
Review by: vivian from Manville NJ
Work Description: Mowing of lawn
Comments: Job was done as promised and contract reads as we had agreed.
Review by: Laura
Comments: Lipp Landscaping made my yard the most beautiful thing to look at. They were extremely nice and they were able to do exactly what I wanted done.
Review by: Customer