`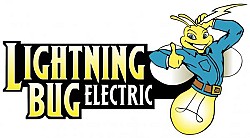 Lightning Bug Electric
Lightning Bug Electric

License:

EN213246

Main Services:

Electrical Service and Repair

Years In Business:

2003

Company Overview:

Are you searching for a reliable electrical contractor in the Atlanta, Georgia area? Lightning Bug Electric is a state licensed electrical contractor with more than 25 years experience. When you need an electrician, we provide experienced professionals to handle any size job, including residential, commercial and industrial service and construction. With our free estimates,* appointments that fit your needs, fast and friendly service and competitive rates, you'll never have to call another electrical contractor again!

You are online looking for a good deal on electrical service, and we appreciate the opportunity. In addition to our exceptional prices, you will also get award winning service and full warranties. Thank you for taking the time to check us out and once you have decided to give us a try I promise you will not be disappointed. Electrical work done right! Guaranteed!

Reviews By Customers
Review by: Charles Matthews from Powder Springs GA
Work Description: Troubleshoot light fixture not working. Found cut wire. Spliced and installed box to meet code.
Review by: Harold Gadson from Powder Springs GA
Work Description: the technice was very good and explaned evrechthing he had to do, was talkative to my husband got through in reasonable time
Comments: if some one as about the knowing some that did the kind of sevice i would recamand your company as well as the technine,
Review by: Ellen Hatfield from Acworth GA
Work Description: Electrical box was ripped off the house by trees that got struck by lightning in storm. Took power lines and cable down as well. Lightning Bug Electric called me back evening of occurrence, came out promptly next morning, finished work by early afternoon, filed report with Cobb EMC, and inspected next day. They called several times, were understanding and courteous. Josh, who did the work, excellent.
Comments: See Description of Work, commented there as appropriate.
Review by: Ric Parrish from Atlanta GA
Work Description: Resecured electrical mast to house.
Comments: Josh was a pleasure to work with. He was knowledgeable, courteous, and professional!
Review by: Lanelle LaRue from Morrow GA
Work Description: Very good. Alan found a connection problem which did not affect the use of my oven, but he fixed that as well as he was connecting the oven back.
Comments: Although I was not called an hour before hand, he did show up within the time given. Very professional and finished in just a few minutes. Will recommed this company to others.
Review by: Pallavi Shah from Duluth GA
Work Description: Added Lights in Family Room
Comments: Manager/Owner was extremely professional and went out of his way to take care of things.