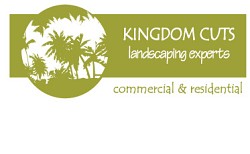 Kingdom Cuts
Kingdom Cuts

Main Services:

Residential and Commercial Landscaping and hardscaping Services

Years In Business:

22

Company Overview:

Let Kingdom Cuts (305 – 989.5505) take care of your landscapes and hardscapes. We have proudly served homeowners and businesses in the greater Miami, Miami Beach and Homestead and surrounding areas for 16 years. We are a complete landscape service dedicated to customer satisfaction and provide the utmost attention to your special needs. Some of our services include: irrigation (repair and installation), lawn maintenance and lawn care, outdoor lighting (plan, install and repair), sodding, seeding, mulch, aeration, planting, fertilizing, fall/spring cleanup, pruning hedge trimming, weed control, tree service, decks and porches. We also put in hardscapes. Give us a call today – we give free estimate.
Reviews By Customers
Review by: I. B.
Work Description: sod replacement
Comments: great to work with . delivered as promised.
Review by: V. G.
Review by: J. C. S. M. B.
Work Description: Lawn Installation & Maintenance
Comments: Reliable and great quality!
Review by: C. D. V. P. D. O. K. T. O. K.
Work Description: Commercial Landscaping Maintenance
Comments: We are very pleased with Kingdom Cuts, our landscaping professionals. They do excellent, high quality work and take care of all the details and extra work, such as trimming, planting, trees, pesticides, and water sprinklers, all at a very reasonable price. We are very happy that we are finally getting the thorough level of lawn service that we have always wanted.
Review by: C. S. D. M. O. S. G.
Work Description: Commercial Lawn Installation & Maintenance
Comments: Quality Work, Dependability, Courteous Employees, Emergency Service, Landscape Improvements, All At Reasonable Prices