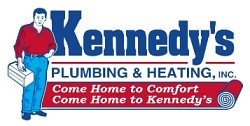 Prescreened by Networx
Kennedy's Plumbing & Heating, Inc.

License:

P1-203802

License:

HIC 582566

License:

HTG.0303175-S1

Main Services:

Heating Ventilation Air Conditioning Plumbing Remodeling

Years In Business:

29

Company Overview:

Welcome to Kennedy's Plumbing and Heating!

We are the Greater Hartford area's one stop contractor that can take care of any of your home's needs. With a combined 125 years of experience, we have the know-how to solve your problems and turn your dreams into reality. Some of our most popular areas of specialty are: water heaters, furnaces, air conditioning systems, plumbing repairs, kitchen and bathroom remodeling, broken piping, gas fireplaces, radiant heating systems, whirlpools, hot tubs and much, much more.

Heat Pumps
Gas Piping
Gas Logs
Furnaces
Radiant Floor Heat
Boilers
Stove Hook-ups
Snowmelt Systems

If there's something you're looking for that's not listed, give us a call. Our customers are often amazed by how many different services we can offer them, eliminating the time, cost and hassle of dealing with multiple contractors. Thanks for stopping by and come back soon!

Website:

http://www.kennedysplumbing.com
Reviews By Customers
Review by: J. J.
Work Description: Diagnose and repair a central AC system. Had been advised system was leaking refrigerant.
Comments: Requested a 2nd opinion regarding the problem and cost to repair my AC system. Kennedy rep did a thorough diagnostic check and shared the results with me. Provided a couple of options and provided costs. Repair was done for far less than previous bids. I would use Kennedy again.
Review by: J. A.
Work Description: clogged bathtub drain
Comments: We loved the fact that they were able to schedule quickly. Eric and Michael came in about 45 minutes or so after the expected time and 10 minutes later they were pretty much done. They closed the bathroom door, so we really didn't see what was done. We weren't informed of what the issue was, but we handed over a check. Our personal opinion: Maybe evaluate the issue and base the cost accordingly. We understand travel, paying employees, etc., and we are grateful for the cleared drain, but it was a very expensive 10 minutes for us. And yes, i would still recommend them because Eric definitely knew what he was doing.
Review by: H. A.
Work Description: drain basement and snake drain lines.
Comments: work was done and explained .technicion was excellant.
Review by: G. D.
Work Description: gas piping
Comments: Did not use them but returned call with quote in timely manner
Review by: R. M.
Work Description: Install a natural gas line to a ventless fireplace
Comments: Sal called about my request shortly after my submission We set up a day and time. Office called day of appointment to let me know that their technician Andre was on his way. Excellent job by all involved!! Will certainly call them if needed in the future!!!!
Review by: Z.
Work Description: furnace replacement
Comments: they installed a new furnace for me. $4800.00 was the cost, but after rebates, I only paid $3300.00. I thank them because I had no idea about gov't rebates and would have spent $1500 more. Work done good, only in 1day with 1visit.
Review by: M. F.
Work Description: Replace grinder pump
Comments: The tech was bar none the best technician who has ever helped me out across any field. He talked through all of my options on the phone in very clear terms, he hit his estimate, he was polite, friendly, super thorough, and CLEAN. I am SO glad I found Kennedy's. They have a customer for life.
Review by: J. R.
Work Description: Kennedy's cleaned snaked out our floor drain in the basement.
Comments: The job was adequately completed after a few call backs. They charged a fee to just come out and assess the job. Then they came back and charged again for the job itself. They had to come back a third time to snake the drain again because it kept backing up.
Kennedy's Plumbing & Heating, Inc. Replied:
In response to this review, we have found a few facts missing: Fact # 1 when we arrived at the home on the first visit, September 21, 2011, we found the main drain line plugged in the basement. We then called MDC and met with an inspector who found the problem to be at the street. Due to this situation we did not remove the clean-out access cover due to the backup being at the street it would make matters worse. At this point we charged the customer our minimum charge for coming out. Fact #2 when we returned to the home 5 days later, September 26, 2011, we then snaked the main drain line and cleared the blockage. We recommend the following to the customer but no work has been completed to date: Customer is to monitor basement subgrade water level, if when it rains the level rises then the back water valve must be replaced. Replacement cost was quoted for work that would need to be completed to replace valve. Timothy Kennedy - Vice President Kennedy's Plumbing and Heating Office - 860-296-4867
Review by: J. K.
Review by: H. T.
Comments: Waiting for written estimate
Review by: L. M.
Work Description: Got a price quote but haven't done anything with it as of this time. The response was great and a representative was sent to quote the job.
Comments: Haven't had the job done as of yet. I was satisfied in the response and with the representative that was sent.