`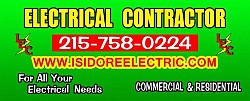 Isidore Electric
Isidore Electric

License:

PA067117

Main Services:

Our services include: lighting, switches, outlets, and fixture installations, electrical wiring and panel upgrades, general electrical service, install ceiling fan, custom home wiring, interior wiring, correct City violations, 240 volts A/C line, 240 volt

Years In Business:

1997

Company Overview:

Isidore Electric, has been providing exceptional service to the Philadelphia and surrounding area for over a decade. Isidore Electric, believes in going above and beyond client expectations and building customers for life. Prompt and professional, Isidore Electric, is your best choice for quality work at competitive prices.

Our services include: lighting, switches, outlets, and fixture installations, electrical wiring and panel upgrades, general electrical service, install ceiling fan, custom home wiring, interior wiring, correct City violations, 240 volts A/C line, 240 volts electric range and dryer lines, 240 volts baseboard heaters line, security lighting, under cabinet lighting, all appliance dedicated circuit, garbage disposal, microwave, dishwasher and much more.
267-329-6014
Reviews By Customers
Review by: Adrien
Work Description: Ceiling Fan Installation
Comments: Isidore did a great job installing my ceiling fan. He is very knowledgeable and thorough and did it right the first time.
Review by: Jason
Work Description: Outdoor Lighting
Comments: Very pleased. A professional from start to finish. Very considerate and effective in keeping client informed of progress and plans.
Review by: Sally
Work Description: Electrical Install
Comments: professional mannerism, proficient, hard working, goes beyond the norm to give customer the whole picture for his/her project.
Review by: Jim
Work Description: Electrical services
Comments: Judes was very accommodating as far as scheduling my appointment as well as calling me several times to confirm his arrival time. He was polite and courteous with fair pricing. I'd definitely call him for electrical services again.
Review by: Ed Glass
Work Description: Hung a ceiling fixture 18 feet high ceiling
Comments: very,very happy one of the best contractors I ever had do work for me on time and very professional