`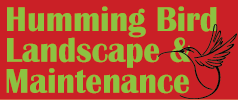 Humming Bird Landscape and Maintenance, LLC.
Humming Bird Landscape and Maintenance, LLC.

Years In Business:

2003

Company Overview:

Humming Bird Enterprises Lawn Service was founded in 2003 by Sandra Richburg and Ralph Benton. From childhood to adult years, each worked for years with their fathers servicing residential customers. During those years a passion to provide top quality service to each and every client was acquired. After working together for several years with the same company, they decided it was time to launch that childhood dream; a lawn care service.

As a full service lawn care company, Humming Bird Enterprises provides fertilization, core aeration, and disease and pest control. The staff consists of highly experienced and reliable professionals who are dedicated to keeping our client's lawns happy and healthy.

Humming Bird Enterprises Lawn Service is unique in that clients are given our most undivided attention. Through our visual evaluation during each service, potential concerns are detected in advance and a customized treatment program is designed to meet the needs of our customers.

At Humming Bird Enterprises Lawn Service we pride ourselves on the slogan "We Make You Look Good!"
Reviews By Customers
Review by: Cathy Price
Work Description: Humming Bird Landscape have done lawn service work.
Comments: They are an excellent company. I highly recommend them.