`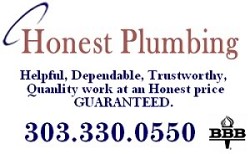 Honest Plumbing, LLC
Honest Plumbing, LLC

License:

MP-189453 PC-2692

Main Services:

Plumbing Repair or replacement

Years In Business:

2009

Company Overview:

Honest Plumbing is a full service plumbing contractor serving Denver and the surrounding area with over 15 years of experience for residential and commercial customers.

We can offer you a wide array of services, including:

• General Plumbing Repairs
• Clogged Drains
• Tubs, Showers, Sinks & Fixtures
• Bathroom & Kitchen Remodeling
• Leaks Detected & Repaired
• Repipes
• Water Heater Install/Repair
• Sewer and Drain Cleaning
• Tank less water heaters and Much More!

We take pride in offering plumbing services built around honesty, integrity, quality, and guarantee your satisfaction in all of our services. We operate with integrity and our workmanship is exemplary. We also charge honest prices that you can afford. We take care of all of our customers homes as if they were our own. We pride ourselves on always getting the job done in a timely manner and always give personal care to each customer in order to provide the best value to every customer.

Whether serving your business or tenants, we know it's vital to stay up and running at all times every day of the year. That's why our Emergency Service crews are available 24 hours a day, 7 days a week. We are experienced, affordable, licensed and insured. Call now for all your plumbing needs.

Reviews By Customers
Review by: Steven Smith from Westminster CO
Work Description: Replaced water pressure regulator and two old shut off valves.
Comments: Knowledgable, competent and fast. Willing to work on weekends and with reasonable rates. I highly recommend Joe of Honest Plumbing
Review by: cj vorhees from Lakewood CO
Work Description: REMOVED AND INSTALLED HOT WATER HEATER. REROUTED THE WATER LINE.
Comments: THANK YOU
Review by: Margaret Jacot from Broomfield CO
Work Description: Replaced part to hot water heater.
Comments: Joe did a great job fixing my hot water heater. He was polite, efficient, and was very fair in what he charged. I would be willing to recommend him to a friend.
Review by: jennifer day from Westminster CO
Review by: Jesse Fuller
Work Description: He installed a tankless water heater, switched over some galvanized over to copper, and much more.
Comments: He gives great service. I refer him to everyone I know.