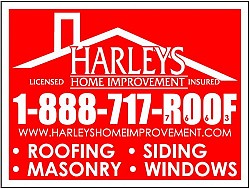 Harley's Home Improvement
Harley's Home Improvement

License:

2101194044

Main Services:

roofing concrete stampcrete siding windows

Years In Business:

16

Awards:

BBB

Company Overview:

Contact us Today for a Free Estimate at 405-242-6444(Oklahoma City) or 313-914-3511 (Detroit)
At Harley's Home Improvement we are a family owned and operated company. We have been fully licensed and insured for over a decade.We pride ourselves on excellent workmanship and job site professionalism.Here at Harley's we believe there are three major questions when choosing a contractor. Here at Harley's we are Owens Corning Preferred Contractors and G.A.F. Certified Installers. Meaning we can offer you better warranties on the products we install.#1 Products. Does the company use the best products available to them, and are they authorized by the manufacturer to use there products. #2 Installation . We are Code plus contractors meaning we go above and beyond what is required by the Michigan State Building Codes. We have over 15 years of hands on experience. #3 Price. We provide you with top quality material and Code plus installation for the best price on the market guaranteed. Here at Harley's we don't use any sub-contractors there for cutting out the middle man and saving you money. It also allows us to be in control of the quality and installation of your job from start to finish.
Reviews By Customers
Review by: F. &. C. S.
Work Description: Roof replacement
Comments: They did a great job. Punctual, neat, polite and very hard working. Worked straight through until the job was done and done right. They cleaned up all mess. Crew manager was Christopher G. Hornberger and I want to thank him and his reliable crew. Good work and good company.
Review by: C. P.
Work Description: Stripped old roof, and placed a new and upgrad,
Review by: P. . T.
Work Description: Replacement of garage roof.
Comments: I was very impressed with the workers from Harley's Home Improvement from the inception to completion. Everyone was very pleasant, professional and very passionate. I would highly recommend the establishment including the staff on site, particularly Cindy who was also very professional from beginning to the end. Many thanks for a well performed and professional staff.
Review by: D.
Comments: Great job! Very professional! High quality material. Price was great!
Review by: M. D.
Work Description: Windows/Roof
Comments: All i can say is WOW!! Great service,Great worksmanship,Great price,Great job..Hats off to the Harleys team!!
Review by: C. P.
Work Description: Placing of a tarp on the roof.
Comments: Emily is the sweetest person. The guys were prompt, professional, friendly, courteous, helpful and did the job quickly and efficiently, helping to save my back wall from anymore water (rain) damage from a previous contractor, Beaver Built, who is not recommended. Thanks to you all and will HIGHLY recommend you to any and everyone who needs roofing work done. Now, I can enjoy the rain again! Thank you and GOD BLESS YOU ALL! Carol
Review by: A. J.
Work Description: Removed two layers of existing shingles and installed one sheet of shingles, ridge vents, and soffit vents.
Comments: I never met Harley before contracting him to roof my deceased father's property. He was referred to me by a member of my church, which surprisingly Harley was also a member of. For that reason I gave him a chance to quote the job (along with two other contractors), but I knew in my mind that he would be awarded the job if he was the best suited for the task. To ensure I was getting a quality shingle, I researched and dictated that each contractor base their quote using the brand/model of shingle I had researched. During the quote, Harley was very professional and the quote was about $3,000 cheaper than the next contractor. Overall the workmanship was excellent. The only problem was the ridge vent color was slightly different than the roof shingles. However, after pointing this out to Harley, he immediately set the wheels in motion and replaced the vent with the correct one. Anyone who knows me would say that I can be overly critical, so to say I was happy with the workmanship speaks volumes. Not only was I happy with the workmanship, but also the time it took them to schedule and shingle my 21 square roof. I happily give Harley and his staff my recommendation.
Harley's Home Improvement Replied:
Thank you
Review by: M. S.
Harley's Home Improvement Replied:
Thank you
Review by: S. .
Work Description: roof siding
Comments: I had them out to do a Roof for me last year they did a great job. I referred them to a friend they did a great job for him to . I had them come back out and do my siding and guess what, they did an even better job on that.
Review by: M. . C.
Work Description: Complete tear off and re-roof garage
Comments: There was a delay due to rain. There were missing materials on the day the job was to start. The crew that came to do the work went the home supply store and purchased the missing materials and completed the work in the allowed time . They cleaned up the area and the roof was installed in a professional manner. I would not hesitate to hire them for other home improvements and will recommend them to my friends
Review by: B. . R.
Work Description: new roof on my commercial bldg
Comments: professional, informed and well mannered.
Harley's Home Improvement Replied:
Thank you for the review
Review by: T. H.
Review by: Customer
Review by: V. . A.
Review by: J. B.
Work Description: These guys were in and out in one day, which was surprising because other companies told me it was a two day job. So there was very little inconvenience. I have reccommended them to half the people I know. Dr. Barnes