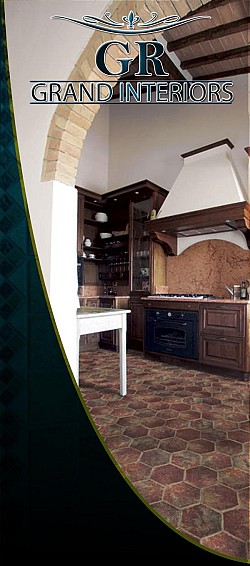 Prescreened by Networx
Grand Interiors

License:

182496

Main Services:

Tile installation

In Business Since:

2007

Company Overview:

Good Tile Work is a combination Tile setting performance: provision of skilled, informed and supervised Tile Setters and the knowledgeable application of the tile installation methods best suited to the requirements of your job. If you need a Tile setter who's prices are competitive, who is committed to quality Tile Installation and on time completion; Grand Interiors should be your choice.

Your kitchen and bathroom are the most utilized rooms in the house and the most complicated to design and remodel. When designing these rooms, we focus on details such as: fine tile work, work triangles, overhead and under counter lighting, elaborate crown detailing, cabinets, countertops, flooring finishes and quality of materials. A quality bathroom remodeling job is made up of quality details. As you can see in the pictures of the work our company do, that we take pride in my attention to detail.

Website:

http://www.grand-interiors-inc.com
Reviews By Customers
Review by: Aaron Graneng
Work Description: Installation of 390 Sq Ft of 12x12" ceramic tile flooring.
Comments: Alex is a true craftsman who takes pride in providing quality work. He is meticulous in surface preparation and in the sizing and placement of each tile. As a consequence, the appearance of the final product was excellent.
Review by: Jackie King from Camas WA
Work Description: kitchen floor
Comments: Alex is a true craftsman! He didn't stop until the job was done. The result was outstanding! I'm looking for more projects for him to do.
Review by: Tom & Deb McGovern
Work Description: Kitchen countertops and backsplash
Comments: WOW! Great work and VERY good price (no idea what that other guy is talking about because we shopped around) Alex was very helpful and patient while we picked our granite (went with my wife to 3 stores) - - even helped us get a better price and most importantly finished on budget and 1 day ahead of schedule We are really grateful to Alex and would HIGHLY recommend him!
Review by: Edward
Work Description: Kitchen remodeling
Comments: Excellent service!!! Was happy with the design and the job was done on time as promised. Looking forward to deal with this company. The results exceeded my expectation.
Review by: Shirley Brokaw from Gresham OR
Work Description: Removed old tile and installed new. removed grabbars, cleaned them and reinstalled them. Polished the chrome faucets and bars, as well.
Comments: Very courteous, hard working and obviously takes pride in doing quality work. I would not hesitate to have Alex do other work for us!
Review by: Karen
Work Description: Kitchen remodel
Comments: Alex did a wonderful job with my kitchen remodel….he also faced the fireplace with granite. Alex first came to the house to see the project first-hand. He then met me at the tile shop and we chose tile that would compliment the house and space allowance. Alex was a pleasure to work with…he is kept in touch with me as the project progressed as entire kitchen was remodeled as I needed to fit him into my schedule. He made sure the tile layout had a great flow. He is a perfectionist. Does beautiful work. More to do on the house and will hire Alex again.
Review by: Andrew
Work Description: Bathroom remodeling
Comments: Very nicely and professionally done!
Review by: richard mckay from Saint Helens OR