`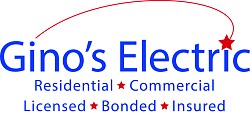 Prescreened by Networx
Gino's Electric

License:

37980

Main Services:

electrical services, computer networks, hot-tubs service/installation, interior/exterior lighting

Years In Business:

1989

Company Overview:

Gino's Electric is your full service electrician with 20 years experience. We are fully licensed and insured to provide top-notch service to residential, commercial, and industrial customers. Our service area includes Cuyahoga County and the surrounding areas. We promise customer satisfaction, on time and friendly service at all times! Emergency service is available. Call us first for prompt service!
Reviews By Customers
Review by: sandra c less from North Ridgeville OH
Work Description: installed new smoke alarms
Comments: I wold use Ginos again very nice man and price good, right on time
Review by: Rosalie Landi from Independence OH
Work Description: punctual and efficient
Comments: Man of his word, great integrity. I was very pleased.
Review by: Emma LaRiccia from Independence OH
Work Description: 1. new light fixture in basement 2. remove old ceiling fan/light fixture in dining area of my kitchen; replaced with new ceiling fan/light fixture
Comments: So nice to get a quote last evening and have the work done by noon today!! Gino (who probably thinks I'm weird, 'cuz for some reason I kept calling him Eric!) is a very nice guy, for one, and for two he knows what he's doing. Price was more than reasonable, and the work was done quickly and professionally. I have a couple more projects I need done, and believe me, there'll be no more waiting for months for someone in the family to help me. I'll be calling Gino!
Review by: Sally Sochacki from North Olmsted OH
Work Description: Defective GFCI and electrical outlet.
Comments: Gino was terrific. He was able to come to my home within a few hours, worked quickly and was able to repair the problem for me. Reasonably priced also.
Review by: Doug Thomas from Strongsville OH
Work Description: Replaced 2 porch lights, 1 hall light and 1 deck light.
Comments: I have used Gino in the past and will always call on him when I have electrical needs. Gino is excellent and very professional in all the work that he does and does it at a fair price. He did all the work in less than 1 hour and did so in the dark. He is amazing.
Review by: Homer Gilpin from Lakewood OH
Work Description: electrical for a doorbell and attic lighting
Comments: I have a terrible schedule and Gino was so accommodating at working around that. Great work and I appreciate the flexibility
Review by: Doug Taylor
Work Description: Hang TV on wall
Comments: Very polite and knowledgeable. Was quick and efficient and even helped my kids with math.
Review by: Melvin Cook
Work Description: Install a ceiling fan
Comments: We were very pleased with this young man, he was very polite and courteous and we would highly recommend him.
Review by: Valerie Ospichak
Work Description: Install a Ceiling Fan
Comments: The project top notch... He was very easy to work with and was on time for the appointment. My husband and I would definetly use him again in the future we were very happy with his work!!!!
Review by: James Greene
Work Description: Hot Tub Service
Comments: Prompt, courteous and professional
Review by: Dale Tufts
Work Description: Antenna Installation
Comments: Gino does great work. Gino was the only company that would install new cable/antenna lines inside my home, the other antenna company's do not install new cable/antenna wiring they only tie into existing cable/antenna wires, Gino provides both services and more. I was very, very impress with his attention to time and service quality.
Review by: candice
Work Description: installed dining room chandelier, installed outdoor lighting, replaced outlets and light switches
Comments: Very professional, very punctual and very easy to work with. Would highly recommend!!!
Review by: Bill Hinsberg from Olmsted Falls OH
Work Description: Switch wiring
Comments: Excellent and on time and friendly
Review by: Keith Ufheil
Work Description: dual phase socket and fuse replacement
Comments: Gino set an appointment kept it, and recommended some changes that only made the electrical system in our home safer. He worked quickly and clean. Since his work was completed the problems have gone completely. I own rental properties as well, and if ANY of them need electrical repairs I WILL WAIT for Gino to be available rather than try someone else.
Review by: deborah martinez from North Ridgeville OH
Work Description: We had to add and upgrade our breaker box for a mobile home.
Comments: We are very pleased with the work, and how Gino returned our call and gave us a great estimate and time it would take to do the job. We won't hesitate to call him again.
Review by: Tol Wade from Strongsville OH
Work Description: Gino was timely, very reasonable, and did a fantastic job. I would recommend him to anyone.
Review by: Bob Kilbride from Cleveland OH
Work Description: V. Good
Comments: I will not hesitate to contact Gino again for future projects.
Review by: Tarus Latacki
Work Description: Panel Change
Comments: Because of schedules we had a little difficulty getting timing worked out. But, after we got a date everything fell into place. He arrived as scheduled and performed all work discussed. He cleaned up afterwards and left everything better than when he arrived.
Review by: C. Randall
Work Description: Installed cable tv and home network wiring.
Comments: Everything works perfectly! Did a very neat job in the basement making all cables look very clean and professional. Would hire again and recommend to friends.
Review by: Angela T.
Work Description: Violation Corrections
Comments: Absolutely the best contractor I have ever worked with. Extremely friendly, honest and knowledgeable about his trade. Worked quickly and did an excellent job of cleaning up.
Review by: F.R.
Work Description: Replace fuse box.
Review by: Carrie Moore from Westlake OH
Work Description: Change the plug on my dryer from 3 prong to 4 prong.
Comments: Very happy with quick availability and fair price.
Review by: ROBIN HARDY from Westlake OH
Work Description: Trouble shooted kitchen light problem and fixed. Also put in a dimmer switch for the kitchen lights.
Comments: Very firendly, professional, and best of all his pricing was fantastic. Will use again and HIGHLY recommend!!!!
Review by: marvin Bannon from Painesville OH
Work Description: He came over to troubleshoot issues we were having with our new home
Comments: Gino is a wonderful contractor! In fact, he will be the only one I trust to work on our home. Honest, punctual, friendly, and a great elecrician
Review by: Paul and Kathy Justy
Work Description: We were having problems with the main lines coming into our residential 200A breaker box. Due to condensation one of the main breakers was failing and was arching. This was causing lights to go on and off on their own, some circuits to fail while others stayed on, our house acted as though it was possessed! The night we discovered our problem was a very sleepless night.
Comments: The next morning we sent Gino a request and he quickly called us back. He was at our house by 330PM. He was able to pull our meter and correct our problem quickly. Gino was extremely courteous, truthful, and helpful. The price of Gino's service was a great value. The work he performed was of the highest quality. We expect to hire Gino again to do some future electrical upgrades and will recommend him to our friends and business associates. We are glad we discovered the Networx web site.