`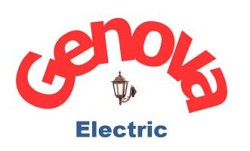 Genova Electric, LLC
Genova Electric, LLC

License:

K-11 ROC259996

Years In Business:

2009
Reviews By Customers
Review by: Ray Shomaker
Work Description: Repair lamp/replace broken pot-metal nut
Comments: Although Jesse could not find a part to replace the boken unit, he was very courteous, refused a service fee, and told me where I could possibly find a replacement for the shattered part. Now, thats what I call CUSTOMER SERVICE!!! Thank-you Jesse!
Review by: Gary Hudson
Work Description: Our home was hit by a lightning strike this past couple of days. We needed someone to fix our panels quickly.
Comments: Jessie from Genova responded withing 3 hours of our call. Repaired the problem quickly. Would use Genova Electric again. Thanks for getting us back on our feet.
Review by: Kathy L.
Work Description: Install 2 electrical outlets and an outside motion sensor light.
Comments: Received a call back to set up a same day and in person quote. Jesse called to say he was going to be late, which I think is because he didn't realize how far out I lived. While he was here he was friendly and the price was reasonable. When I called him back to set up a time for him to do the work, he was able to come back in the afternoon and do the work that same day. He showed up on time and he left the work area clean. Will hire again if more work is needed - first rate.
Review by: Bonnie C
Work Description: I called to change the outdoor pool pump that had stopped working in the excessive heat. The pump was successfully repaired and a new one wasn't needed.
Comments: I thought that the pump was burnt and I would need to replace the entire unit. Jesse was very Courteous, prompt, gave discount for scheduling online and 2nd day service. He knew exactly what was wrong and comforted me that it wasnt the entire pump that had gone bad, just a circuit. He replaced it in no time even though this was a long weekend. I will definitely use them again. The service was courteous, excellent and the workmanship superb!....very reasonably priced.
Review by: John Abel, Scottsdale AZ
Work Description: I had scheduled a AC panel change that had burnt in this extreme heat. Jessie was very punctual, polite and courteous. He came promptly, fixed the faulty wiring and got my house up and running in no time.
Comments: Jessie was very punctual, polite and courteous. He came promptly, fixed the faulty wiring and got my house up and running in no time. His pricing was fair and worked within my budget. He realized that the heat was going to be bad for me and the elders at home so he took extra care to ensure that the fault doesnt repeat again. He even cleaned up the repair work impeccably after he was finished.I would choose him again and would recommend him highly
Review by: Ed Torenton
Work Description: Re-checked and identified all the wiring problems and helped me install a TV in master bedroom. All the lines were hidden.
Comments: I think quite highly of him; he appears to be dedicated and we have become friends. They are dependable, dedicated, and will do whatever it takes to get the job done.