`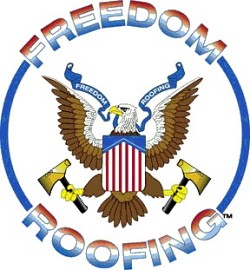 Freedom Roofing Company
Freedom Roofing Company

License:

5288222-5501

Main Services:

All types of Residential steep slope and flat roofing services. Including wood and asphalt shingles, standing seem metal, single ply membranes, and tile roofs. From small repairs to complete roof systems, we can handle all your roofing needs.

Years In Business:

2003

Awards:

Certainteed Select Shingle Roofer ' BBB' "A" Rating

Company Overview:

There are many roofing contractors in our area from which to choose. What separates us from the others? Service and Value. In my many years as a roofing contractor, I have learned that anyone can offer a low price, but is the product you receive worth what you pay? I spend a great deal of my time fixing leaks left by other contractors who do not take the time to provide a quality roof system. At Freedom Roofing, we make quality workmanship job ONE. Freedom Roofing is a select Shingle Roofer from the Certain Teed Corp. and all of our crew leaders and lead installers are certified Master Shingle Applicators from the same company. This allows Freedom Roofing to offer the best value to you, our customer. If you are looking for the best quality around call us today for a free estimate.
Reviews By Customers
Review by: paul l nielson from Orem UT
Work Description: Roof replacement
Comments: They were very hands on in their bid. They went over everything in person. They did what they said they would do when they said they would do it. We were very impressed with all they did. We would recommend this company to anyone needing roof work.
Review by: Robert Heiner from Salt Lake City UT
Work Description: Repair a Skylite
Comments: They did a fantastic job. On time, professional and reasonable price.
Review by: Jason Horner from Riverton UT
Work Description: Replaced some shingles that had torn or blown of due to wind/age
Comments: Very friendly and very competent
Review by: Raymond Wagner from Kaysville UT
Work Description: Repair gouges in my membrane roof, caused by falltrees in wind storm.
Comments: Not qualified to evaluate quality or price of service, but their work is "Certainteed". Their response was prompt, but I would have appreciated a call before they rang my doorbell, ready to do the repair. Fortunately, I was home, and I was glad to get the repairs done.
Review by: Lawrence Gray from Salem UT
Work Description: New shingles, flashing, etc. replacing old on entire house. Also included replacing old vents with ridge vent system.
Comments: Good communication throughout the process. Project was completed in 2 days. Crew did a good job of cleanup afterwards.
Review by: Gailon Robins from Layton UT
Work Description: Work has not started as yet.
Review by: Doug Larsen from Bountiful UT
Work Description: Rubber membrane repair on carport.
Comments: Only one of four companies contacted me. I felt it was a fair price so I hired them. The job was completed extremely quick. They cleaned up exceptionaly well. Very satisfied. dl