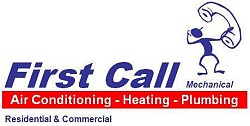 Prescreened by Networx
First Call Plumbing

License:

TECL25305, TACLB26721E, M39313

Main Services:

Residential and Commercial

Awards:

BBB

Company Overview:

It is important your plumbing systems function properly. Plumbing installation, plumbing repair, and drain/sewer services need to be done correctly by a licensed plumber. Call us, and we will provide you with professional high-quality service on the "First Call." We Guarantee it! Who We Are ...
A Professional and Honest company
Licensed to work on Plumbing and Gas materials. Fully Insured, Licensed and Bonded Knowledgeable. Helpful, Customer focused staff Who We Serve...
Residential and Commercial establishments
Food Service customers
Property Management Firms
New Construction and Tenant build-out (Hotels, warehouses, schools, etc)
Serving the entire DFW metroplex
Call today!!

Website:

http://www.firstcallplumbingpros.com
Reviews By Customers
Review by: J. P.
Work Description: Replaced two toilets with Kohler toilets. Replaced one under-sink disposal with 1/2 HP Insinkerator disposal.
Comments: Ethan arrived on time, covered his shoes, showed me what he planned to do, verified the previously agreed price, completed the job satisfactorily in 2.5 hours, and discussed the one-year installation warranty. This was good service at the best price among three bids.
Review by: S. G.
Work Description: Installed water heater; sink & faucets
Comments: Guy was very nice / professional. I will call them again. Good guys
Review by: T. P.
Work Description: Fixed a leaking tub faucet.
Comments: They showed up on time, fixed it within a matter of minutes and the price was fair. Very pleased with the work and would definitely recommend them!
Review by: J. . O.
Review by: Y. B.
Work Description: installing dryer
Comments: Well, 2 things why I did not give him 5 stars for service. 1.He was not sure in his abilities to do the work. I had to ask him 2 times, please come, let us see if you can make it work... 2. For stopping gas in the tube he shut all the gas off in the house, and then when he finished he turned on just the water tank, but completely forgot about the heating system!! I had to call the land-lord and learn where I should turn that pilot on in order that my 2 kids and pregnant wife would not be on cold and wait another day for another specialist to show up!!!!!
Review by: S. M. .
Work Description: Leak in a pipe for the washer machine
Comments: I had 4 estimates on the same issue and they were the most reasonable price. He fixed the problem in about an hr.
Review by: D. T.
Work Description: Unblock the garbage disposal drain.
Comments: First call called me within 5 minutes of me contacting you. One called 2 hours later. Two of the four listed did not call me. I thought that $160 was a lot but I do not live here in USA and have never called a plumber before so that is not an official complaint, just an observation. GREAT service from both you and the plumber, thank you.
Review by: R. A. . B.
Work Description: Replaced shut off valve and repaired leak.
Review by: L. M.
Work Description: Replaced manafold going into house which had a water leak
Review by: N.
Review by: S. C.
Comments: Fast response to request for estimate. Very professional.
Review by: D. S.
Review by: N. D.
Work Description: Arrived when they said...offered bid which was $200 less than competition. Removed old hot water tank and replaced it. Added insulation.
Comments: Wiped feet when he came through the house. Would be nice if they used booties as my a/c man does. Overall good experience. Would definitely recommend them. Was told by another bidder that I needed to replace the faucet to a ball faucet. City passed the existing faucet.
Review by: N. C.
Review by: S. D.
Work Description: Toilet was backing up -- could not find where the obstruction was -- plumber had to remove toilet and locate obstruction -- he was very diligent in trying to find the problem -- once the problem was identified, he then checked all of the remaining bathrooms to insure they were ok. Best of all, the price ended up being less than he had anticipated. He left the bathroom fairly clean -- the toilet itself was pretty messed up, but other than that, he did a terrific job -- will certainly use them again!
Review by: J. S.
Work Description: Replace mixit valve chamber in upstairs bathroom tub.
Comments: Not only did they give me the lowest quote, they were punctual and called me back when they said they would.
Review by: G. H.
Work Description: Fixed Hot water problem.
Comments: Outstanding service! Would call again without hesitation!
Review by: J. G.
Work Description: clogged drains
Comments: Service man was very courteous and efficient. Very informative of problem and solution and offered other services that might be applicable.