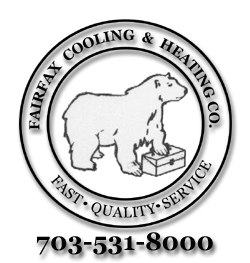 Prescreened by Networx
Fairfax Cooling & Heating Company

License:

2705-128085-GFC HVA

Main Services:

* AC System Installation and Repair * Air Filtration Systems * Boiler Service * Commercial HVAC * Commercial Refrigeration * General HVAC * Heating System Installation * Heating System Repair * Indoor Air Quality Solution * Water Heater Installation

Years In Business:

16

Company Overview:

Hours of Operation

* SUN 9am-5pm
* MON 9am-5pm
* TUE 9am-5pm
* WED 9am-5pm
* THU 9am-5pm
* FRI 9am-5pm
* SAT 9am-5pm

Types of Clients we Provide Services For

* Residential
* Commercial
* Nightclubs
* Restaraunts

Payments We Accept

* Cash
* Personal Check
* VISA
* American Express
* Mastercard
* Discover

Reviews By Customers
Review by: U. A.
Work Description: Replaced the old with new Trane system at our desired price.
Comments: HONEST AND DILIGENT.
Review by: S. S.
Work Description: Replaced outside airconditioner unit and installed new coil.
Comments: Very prompt and efficient. Received 4 estimates, theirs was just a little higher, but they were obviously more knowledgeable and warranted the work for something like 5 years. Also did work within 3 days of receiving the estimate, which was great since we were in the middle of a heat wave.
Review by: H. B.
Work Description: Purchase of an american standard gold series 15, 3 ton, central system, with a compatabe all aluminum 4-ton coil, and a ten year warranty covering all parts and labor. Installation was same day and was concluded within 2 hours of equipment delivery.
Comments: Written proposal included the specified model number per the wishes of the buyer, plus the specified model number of the inside coil. The proposal did not provide a breakout of seperate item costs, i.e., and sales tax was bundeled into the proposal,price, a practice that i find to be irregular.
Review by: R.
Work Description: Replace exixting HVAC with new Trane system.
Comments: I would recommend this contractor.
Review by: L. . N.
Work Description: As a result of our Crop Metcalf Air conditioner service agreement check up, we were told we had a freon leak and it would be $2200 to replace the refrigerant coil. Called Fairfax Cooling & Heating for a second opinion and an estimate. He checked the system and said the plugs were open and he could not find a leak. He suggested we refill system and tighten plugs. It should work all summer at least. We called Crop Metcalf to refill the freon and no one ever called back. We have asked Fairfax H&C to fill the freon. He will do it for $400. I expect that it should work fine.
Comments: He seemed knowledgeable, honest and what he said made sense based on our history with Crop Metcalf. I would rather go with the smaller companies with lower overhead and hands on technicians.