`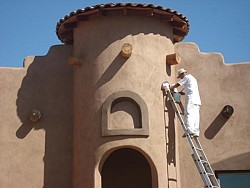 Envision Painting
Envision Painting

License:

ROC255123

Main Services:

Residential and Commercial Painting

Years In Business:

2007

Awards:

BBB

Company Overview:

Envision Painting is a full service painting company providing outstanding painting service at affordable prices in Phoenix, Tucson and surrounding areas. With superior service and premium grade products, our paint jobs protect your property and investment from failure and deterioration while improving aesthetics, longevity and value. Our services include interior and exterior painting, custom painting, popcorn removal, texturing, drywall and stucco repair, epoxy garage floors, handyman services and more. Equipped with a over two decades of combined experience in the painting and construction business, we've designed our process and system to provide a seamless experience at an unbeatable value to our customers. We specialize in service and can do it all so feel free to call us today for a free estimate.
Reviews By Customers
Review by: Johnna Wilcox
Work Description: painted interior and exterior of 3200 sf home, with garage epoxy and perimeter fencing
Comments: Adam and his team of painters did a great job. I had high expectations and they exceeded them. I thought the price was fair and I'd call them again for my next house.
Review by: Zack and Anna
Work Description: We actually found Envision Painting on Craigslist. In short, we couldn't be happier. The management team was quick to respond to all of our needs and was more than fair when giving us a quote. On the actual day of the painting job, the team was quick, efficient, and clean. They made sure that every detail was covered without sacrificing quality. We are more than happy and would recommend Envision to all of our friends and family. We will certainly use them in future. Zack and Anna
Review by: Julie Poyer
Work Description: 1900 square foot house minus 2 bedrooms and a bath.painted that included both walls and ceiling.
Comments: We received 3 painting estimates. I found Adam with Envision Painting personable, professional and competitive. I also felt that they would do a good job and their goal was for me to be completely satisfied. I was not let down. I am admittedly a picky person but the paint color was as I requested even though it was a different brand and the ceiling lines perfect. The painters had forgotten to paint a closet so as long as they had to come back out I decided to have the remaining ceilings done to complete the paint job. He was quick to have them back out and was there the next day to get them started and and completed. My whole house now looks fesh and clean and Adam was a pleasure to work with.
Review by: Jeff from Chandler AZ
Work Description: driveway epoxy
Review by: Sheila
Work Description: Interior and Exterior Painting
Comments: Envision painted the inside and outside of my house. It looks brand new now. The price was great and the job looks incredible.
Review by: Scott
Work Description: They installed roofs on two of my rental properties.
Comments: I was very happy with Hometown Roofing Company. The kept a clean job site and I am really happy with the quality of their work. I would use them again.
Review by: Brigitte Walsh from Sun City AZ
Work Description: popcorn ceiling removal, retexture and paint painting of interior doors texture of bathrooms
Comments: Josh, the general, was very competitive in his pricing, responsive to our needs and following up on work performed by his crew that needed some improvement. We were pleased.
Review by: Betty
Work Description: painted the outside of my house
Comments: Pete and his team did a great job. Extensive prep work and high quality Dunn Edwards materials. They took their time and made sure the job got done right and that I was happy throughout the duration.
Review by: Curt Fowler from Apache Junction AZ
Work Description: Painted the exterior
Comments: Good job clean and professional
Review by: Jason W
Work Description: popcorn removal, texture, interior paint
Comments: The workers were very nice and polite and did a thorough job. For the amount of work that was done, the price was definitely fair.
Review by: Misty Richardson
Work Description: Drywall and Painting
Comments: I thought Pete and his crew did an exceptional job on my home. They were very thorough, detailed and much cleaner than the last painter I used. I'd definitely hire them again.
Review by: Mary V.
Work Description: I hired these guys to paint my house a few weeks ago. They weren't the low bidder, but I felt more comfortable with their ability to do the job properly after seeing some of the houses they've done. Overall, i was very happy - no problems or complaints. I'd recommend them!.
Review by: Scott
Work Description: Interior and exterior painting.
Comments: It was great, we will definitely use him again.
Review by: Scott
Work Description: 3500 square foot exterior and interior
Comments: Pete and his guys did a great job. The outside was cracking and peeling pretty badly. The painters did a good job filling all the cracks and scraping the old paint off the trim. Also had them do the inside from all white to 2 tone and it turned out very nice.