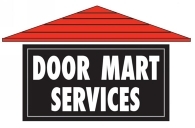 Door Mart Services
Door Mart Services

Main Services:

Residential and Commercial Garage Doors & Openers

Years In Business:

37

Company Overview:

Door Mart Services has been providing garage door installation and repair services for commercial and residential in the Houston area for over 31 years. Door Mart Services installs and services all of the top name brand and specialty garage doors and garage door openers, and also offers custom garage doors and accessories at competitive rates. Door Mart Services sells, installs, and repairs complete product lines and parts from leading garage door and garage door automation manufacturers, and also provides custom garage door solutions to your specifications. DOOR MART SERVICES IS THE ONE-STOP GARAGE DOOR COMPANY IN HOUSTON! We can be reached at (281) 852-9626 or (832) 527-1261
Reviews By Customers
Review by: R. J.
Work Description: Repaired broken cable, aligned door, properly retattached rollers to door,adjusted settings for opener, and fixed problem with sensor
Comments: Repairman was prompt, courteous, trustworthy, and very professional. This was five star service at a reasonable price. I would use them again or recommend them to a friend/co-worker without any hesitation.
Review by: J. C.
Work Description: Repair of reverse mechanism for garage door opener.
Comments: George was very knowledgeable and extremely helpful. He was quick to contact me and had a service tech at the house within the hour. It was amazing. The service man was extremely nice and helpful.
Review by: F. Z.
Work Description: replaced balance spring
Comments: early call back, prompt service, fixed it right and fast.