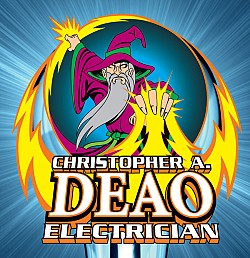 Prescreened by Networx
Christopher A. Deao Electrical Contractor

License:

10629B

Main Services:

Complete electrical services!

Years In Business:

11

Company Overview:

Christopher A. Deao is full service licensed/insured electrician specializing in residential and commercial electrical installations and repairs. Our no job too small policy, fair pricing, reliability, and quality customer service has become the foundation of our business since 2004. Call or email today for your free estimate and discounted pricing during these tough economic times.
Deao Electrical services Boston's North shore, Essex county and beyond.

Accredited member BBB




These are just a few of things that we perfect:
* New Construction
* Remodels
* Rewiring
* Renovations
* Service upgrades
* Diagnostics/Repair/Service
* Installing Ceiling Fans
* Attic Fans
* Bathroom exaust fans
* Outdoor Security Lighting
* Interior/Exterior power
* Energy Saving Solutions
* Surge Protection
* Track & Accent Lighting
* Appliance Circuits
* Landscape Lighting
* Smoke/fire&CO; Detection
* Flatscreen installs
* Home theatre systems
* Surround sound
* Boiler/Furnace wiring
* Heat and AC wiring
* Inspections
* And much more!

We want you to be happy with the outcome of our work, our business relies on it. We strive for 100 % customer satisfaction with free estimates and hourly and straight forward pricing. We also offer 24 hr Emergency Service. Give us a chance and let us show you what we can do for you and how electrical installations should be done right.
Reviews By Customers
Review by: C. D.
Work Description: Repaired a bathroom light socket. Replaced dimmer and GFCI outlet.
Comments: Chris' assistant, John Cookinham, was the electrician. I can only say great things about his work. Punctual, knowledgeable, pleasant, efficient and totally took care of my problem and made that outlet much better than it was before the problem. Thanks!
Review by: P.
Work Description: Installation of electrical fixtures
Comments: Deao electrical did a superb job at a very reasonable price. The job was done in a very neat and professional manner. They were on time and worked very efficiently.
Review by: J.
Work Description: Installed 2 undercounter kithchen lights.
Comments: Chris came on time and did a great job. We will call him again.
Review by: F. M. D.
Work Description: Checked switch that was making popping noise. Checked another outlet to make sure that it was working properly. Recommended the overhead lights be replaced. Also checked the panel in the cellar.
Comments: I am very satisfied and will have Chris install the new overhead light when I get it. Chris called within minutes of the request I made and the appointment was made two days later. He offered to come over the next day, but I was not available that day. A very big thanks for Networx recommendation and Chris' prompt callback and willingness to perform the work two days later.
Review by: D.
Work Description: Wire large addition, update electrical service to 200amp. Repair old wiring done by home owner. Inspect and verify entire electrical system. Add GFCI circuits for outdoors and Arc fault breakers in bedrooms to meet new code requirements.
Comments: Chris does good work, meets needs of the customer and is flexible on work schedule to meet the custoemer's needs. Excellent work overall. Pricing much more realistic compared to orther companies with large overhead. Very satisfied with work.
Review by: K. E. D.
Work Description: replace basement light and install motion detector switch on stairway
Review by: E. . C.
Work Description: estimate of work to be done on a house for purchase.
Comments: The electrician had the knowledge and gave me some good pointers regarding the electric panel and connections around the house. I got a quote from him a couple days later. Good job on his part.
Review by: M. S.
Work Description: Rewired a fertilizer 3hp pump to a 220 v cord for Prescription Turf Services.
Comments: Chris was quick to respond to my call, and when he got to my facility he was polite and got right to the job and didi it for me. He didn't bill me yet so thats in the works, I'll see how reasonable he is and most likely will work with him in the future.
Review by: C.
Work Description: Christopher does pretty much all kinds of electrical work, both commercial and residential.
Comments: Christopher has been working his own business for years. He constantly get references from clients who are happy with his work.