`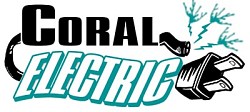 Coral Electric
Coral Electric

License:

EC0001246

Main Services:

RESIDENTIAL & COMMERICAL

Years In Business:

2006

Company Overview:

Welcome to Coral Electric. We are a family owned and operated Electrical Contractor Company, with over 15 years of experience.
Our company is very competitive and takes great pride in our workmanship, responsibilities, and relationships with our customers and general contractors pertaining to job quality and performance. We are dedicated to providing our clients with the highest quality electrical service obtainable throughout
Broward and Palm Beach Counties.
Reviews By Customers
Review by: Diane Dixon
Work Description: Lost power
Comments: My power went out on a weekend right before I was to cook a dinner for 10. I called Coral Electric, who came to my house immediately. They solved the problem and I was able to have my dinner party without skipping a beat. I highly recommend them. Price is reasonable and they are reliable. Great customer service.
Review by: Jackie Morris-Hayes from West Palm Beach FL
Work Description: Installation of 3 new light fixtures in my home.
Comments: Barry & his collegue were extremely punctual and pleasant. They listened to my directions and got the task done professionally -- let me know that a few pieces were missing for one fixture. So they put that fixture together as much as they could and replaced the other 2 fixtures. They accomplished this in record time and told me to call them when the missing parts came in. I definitely recommend Coral Electric for your electric needs -- with something as important as the electrical system in your home you need to have professionals and these guys were the best!!!
Coral Electric Replied:
We appreciate the great review
Review by: Diane
Work Description: Service Change
Comments: I called Coral Electric to give me a quote. I had no idea that they would also turn out to do the best quality installation too. I will use them from now on.
Review by: Ned Fine from Delray Beach FL
Work Description: Replace fan in bathroom
Comments: Immediate contact and appointment set up just as quickly. very honest. will use Coral Electric for any future needs.
Review by: John Whipple from Lake Worth FL
Work Description: ran new line to garage door opener.
Review by: Aimee
Work Description: He repaired/replaced the light fixture in our kitchen ceiling fan.
Comments: Excellent, concerned service. He went above and beyond to solve our problem. I would definitely call him again