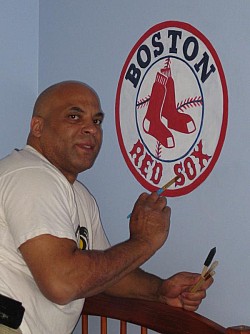 Prescreened by Networx
Chuck Christian Designs

Main Services:

Full Service Painter, Murals, Faux Finishes, Sky Ceilings

Years In Business:

35

Company Overview:

Chuck Christian Designs is a full-service residential and commercial painting contractor, proudly serving the Boston metro area for over 30 years. We are not your run of the mill painter, though we are certainly ready for all your interior/exterior projects. We are one of the area's leading experts in all types of decorative painting. Whether you need a mural for a child's room, or a faux finish to compliment your home, we will work together with you to find the solution right for you and your home.
When you choose us, you're getting a contractor that puts quality and customer service first, with extra precautions taken to protect your property. Our professional staff will properly prepare surfaces, cover and protect the areas not being painted, thoroughly clean up each day and apply paint according to the best industry standards. We offer top-quality work with a high end finish. Our rates are competitive and our customers appreciate our punctuality, efficiency and integrity. You'll find the owner on every job site, so you can rely on us to deliver personal attention and care, insuring high quality results beyond your every expectation.
Reviews By Customers
Review by: E. F.
Work Description: Refinsh kitchen cabinets
Comments: What a find! I needed to have my cabinets refinished in order to sell my home and Chuck got the job done. He was prompt, professional, clean, has a great eye for detail and color. The cabinets look beautiful and almost brand new. The only problem is now I have to leave my home just when I have a great looking kitchen
Review by: L. H.
Work Description: Complete outside of house including deck, and living room, dining room, kitchen, hallway, foyer.
Comments: Chuck does beautiful work. His attention to detail and eye for color is impressive. He and his crew provided me with such a sense of confidence in all of them. He turned my sad house into a very happy house, and I am enjoying the new looks so much. I would highly recommend Chuck for anyone who is looking for a total professional and exceptional artist.
Review by: B.
Work Description: Faux finishes, decorative walls
Comments: Chuck is a master painter. He is a talented artist, with a great sense of color and design. He will work with you, making color and finish recommendations, so you achieve the look you want in your home.
Review by: L. A.
Review by: M.
Work Description: Interior painting.
Comments: He is great, a very talented artist and a pleasure to work with.
Review by: S.
Work Description: Chuck does beautiful work and truly wants you to be totally pleased with what he does.
Comments: I have been working with Chuck for many years. He has a wonderful ability to know exactly what color and style you should use (if you ask him) and the finished product is just perfect. He is a man of deep integrity.
Review by: J. W.
Comments: I have known Chuck for a couple of years now. I met him through one of my sons. I have had the pleasure of reviewing some of his work and it is absolutely fantastic. If any of you out there want to enhance a room or wish to make a child's room into a fairytale wonderland Call Chuck. His work is amazing.
Review by: M.
Work Description: Over the years I have had Chuck do numerous jobs in my house and all his work is truly outstanding from subtle texture to full murals, Chuck can create any mood for any room!
Review by: A. M.
Work Description: College pictures, Misc. paintings, Creative logos, Sketching and Pre-planning.
Comments: I've watched and experienced Chuck's growth for 33 years. His dedication to artwork and customer service is professional and sincere.
Review by: R. H.
Work Description: Chuck designed and completed my sons bedroom with a sports theme.
Comments: Chuck is a real professional. I had doubts based on my experience with other contractors but these were quickly laid to rest when Chuck started to work. He completed the work on time, he made several very good recommendations and I will certainly use Chuck for future projects in the house.
Review by: B.
Work Description: I am a decorator in the Boston area. Chuck does all of the painting for my clients.
Comments: Chuck has done all of my painting and art for the past 18 years. He is amazing with color and has a great eye for design. My clients love working with him.
Review by: A.
Work Description: Faux finishing and a mural.
Comments: I initially hired Chuck to paint a bathroom and before the year was done he had painted my entire house. He isa very nice and enjoyable person to work with.
Review by: L.
Work Description: Chuck painted my entire house. He did some faux finishes and also straight painting.
Comments: Chuck was very helpful with selecting colors and designs. He is by far the best painter and artist that I have ever used. I am looking forward to having more work done in the future.