`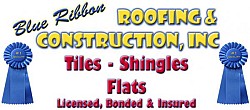 Blue Ribbon Roofing and Construction, Inc.
Blue Ribbon Roofing and Construction, Inc.

License:

CCC1326219; CGC1509172

Main Services:

residential, commercial roof repairs, & re- roofs, shingle, tile, metal roofs, flats, designed build-up systems,& gutters

Years In Business:

1985

Awards:

Member of Angies List

Company Overview:

Blue Ribbon Roofing and Construction is your family owned and operated roofing specialist giving #1 quality for over 25 years, We provide all of our customers with quality work at reasonable prices. Here at Blue Ribbon, we only strive for the best. When you expect professional contractors, you get the best. Our work speaks for itself. Once you use us you won't go anywhere else. We make sure to get the job done in a reasonable fashion. Our services include: residential and commercial customers,as well as property & apartment complexes.Roof repairs, shingle/tile/flats/metal roofs, gutters Also roofing inspections, wind mitigation reports, nailing affidavit and secondary water barriers.Blue Ribbon Roofing & Const., Inc provides any construction service you can think of Including:Room additions/renovations,soffit & fascia windows, doors, wood replacement, screen rooms, kitchen & baths, drywall, painting, & more. Forget the rest, call the best! Call us today for a free estimate and have us start working for you!
Reviews By Customers
Review by: JC
Work Description: REPLACED ROOF
Comments: WAS ON TIME AND DID FANTASTIC JOB IN LESS TIME THAN HE SAID HE WOULD COULDNT BE HAPPIER WOULD RECOMEND TO EVERYONE
Review by: Shirley Webb from Tarpon Springs FL
Work Description: Repaired two leaks
Comments: Did a good job with a one year warranty. Thank you for your recommendation.
Review by: Shirley Camacho from Holiday FL
Work Description: New Roof with shingles
Comments: The pricing for me was pretty steep. I have been getting other quotes with other companies, and they were lower by close to $2,000.
Review by: GARY KLINER from Saint Petersburg FL
Work Description: Replaced roof and removed siding on our 1917 house. A big job - well done!!!
Comments: Excellent work done in a timely manner. Expressed appreciation for the business we gave him - refreshing to have someone do what they say they will do!!!! Would recommend them highly.
Review by: thomas VanderPutten
Work Description: Roof Cleaning
Comments: Blue ribbon called back within minutes. They explained that they don't do that service.
Review by: Shelby
Work Description: Replaced roofs on seven of my rental properties.
Comments: Always on time and if any additional work came up during the job they were very good about taking care of it. I can't say enough good things about them.
Review by: Customer