`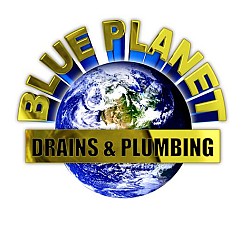 Prescreened by Networx
Blue Planet Drains & Plumbing

License:

892783

Main Services:

Drain cleaning, drain and sewer repair, electronic camera and sewer inspection, leak detection water and gas, slab leaks, water heaters, faucets, disposals, copper re-piping

Years In Business:

2007

Awards:

BBB Certified

Company Overview:

At Blue Planet Drains & Plumbing Inc., we understand the importance of professionalism. Plumbing is a craft in which you can separate from right and wrong when just one step is performed incorrectly. When dealing with your residential or commercial plumbing, we may encounter one problem that can be fixed, but our knowledge lets us know what to expect next. This type of experience saves you money and time. We constantly shop our competitors in an effort to stay on top of the field and affordable. We pride ourselves on our quick-response plumbing service and are ready to go to any job site 24 hours a day, 7 days a week. We have been in the plumbing industry for over 10 years. We are ready to answer the phone whenever you need us. We'll do the best we can to help you fix your problem right away by offering a free consultation over the phone. We continue to evolve in our craft by combining the very best in energy-conserving technologies and eco friendly methods. But don't take our word for it. Put our plumbing solutions to work for you, and experience the Blue Planet quality difference for yourself.
Reviews By Customers
Review by: Carl Falk from San Diego CA
Work Description: Fix kitchen sink faucet
Comments: They sent someone out the next day and fixed the problem.
Review by: Darla Phillips from Chula Vista CA
Work Description: Installed toilet and adjusted a second toilet
Comments: Carlos was very friendly and polite. He was direct and informative.
Review by: Jewell Ford
Work Description: I had the facets replaced in two bathroom sinks. Everything went smoothly and the facets work wonderfully. Very nice man was sent.
Review by: SARAH LAZAR from Poway CA
Work Description: Replaced kitchen faucet.
Comments: Blue Planet called me back immediately and set up an appointment for the next day (a Sunday morning). Marco was honest and worked quickly. Unsure about the price as it seems a little high, but we did not shop around.
Review by: raul
Work Description: refinish bath tub
Comments: on time worked around my schedule, thanks!
Review by: Faisal Beg
Work Description: Two sink drain and cleaned, adjusted hot and cold water for the shower valve, fix toilet bowl tube.
Comments: Mr. Marco. came on time and performed the work very professionally, very honest, even he corrected some plumbing problems without any charge charge. I will recommend them to everyone who has any type of plumbing problems. They know what is they do.
Review by: Alex Cueva
Work Description: they help us with the water leak at our shop and they fix it for a very good price but the job was every well done thank you Marco
Comments: very good plumbers and good pricing I will ruse Blue Planet to every time I have a plumbing problem thank you Marco
Review by: Susan Howard from San Diego CA
Work Description: No hot water to my master shower
Review by: Chris from San Diego CA
Work Description: Gas Hook Up
Review by: Cheng Lin from Carlsbad CA
Work Description: Repairs of three toilets. It took about one and half hours.
Comments: Price was too high although work was done satisfactorily.
Review by: denise likong from Oceanside CA
Work Description: clogged kitchen drain and food disposal
Review by: Jenny
Work Description: Everything form simple repair work to large jobs for our Property Management Company.
Comments: They can do just about everything, a very honest proactive company. They also handle our 24hr. emergency service. Their customer service is great. The owner has a lot of integrity and listens to our needs.