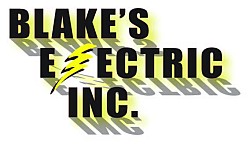 Prescreened by Networx
Blake's Electric Inc

License:

EC13004819

Main Services:

Full service Electrical Contractor for Residential, Commercial and Light Industrial

Years In Business:

Over 11 years in business and over 20 years of experience

Company Overview:

Blake's Electric is a full service Electrical contractor for residential and commercial customers. We are a state certified electrical contractor, insured and bonded. With over 20 years experience in the industry no job is to big or small for our company. We specialize in electrical inspections, service changes and upgrades, partial and complete home remodeling, lighting design, simple lighting and other home services, new construction, repairs and troubleshooting, generator hook-ups are among some of our services. We pride ourselves on prompt, courteous and professional service. We go above and beyond in customer service. Give us a call today at Blake's Electric for all your electrical needs for your home or business. CUSTOMER SATISFACTION IS NUMBER ONE WITH OUR COMPANY.
Reviews By Customers
Review by: C. G.
Work Description: I had two plugs in two different bathrooms that did not work. also had switch caused shocks and tripped circuit breaker.
Comments: Mr. Blake was very knowledgeable. We have lived in house for 10 years and was not aware of a simple GFI switch in Garage that affected both plugs. HE changed the plugs, and the GFI plug in garage and even did an unusual Bulb change for us. Price was right. he was courteous would definitely use again.
Review by: J. P.
Work Description: My water heater needed to be hard wired into the breaker box (or something like that).
Comments: Sandy called me within minutes of me submitting my request (SUPER friendly) and the electricition was under quote price and faster than expected. I would give a hundred stars if I could!
Review by: R.
Work Description: Replaced kitchen ballast.
Comments: Came out same day. Very reasonable price. I would use them again.
Review by: J. R.
Work Description: W have an estimate and we are going to call him today to hire him to complete the work we spoke to him about. We are very happy with him so far!
Review by: I. S.
Work Description: Installing a line for my generator
Review by: E. C.
Work Description: Re wiring electric panels
Comments: Ed Blake is a gentelman who always is prompt and the quality of his work exceptional. I would highly recommend him!
Review by: P. M.
Work Description: ran electric from inside to outdoor, ran electric outside for a pool pump and outdoor lighting, repaired inside electric issues.
Comments: Blake's Electric, responded right away, was helpful, knowledgable and reasonable. I would highly recommend Blake's Electric to anyone needing an electrician.
Review by: S. D.
Work Description: 3 high hats installed
Comments: Ed is a very nice pro. Knew exactly want he was doing and did a great job. Would highly recommend him
Review by: S. O.
Work Description: He repaired/replaced the light fixture in our kitchen ceiling fan.
Comments: Excellent, concerned service. He went above and beyond to solve our problem. I would definitely call him again!
Review by: P. K.
Work Description: replacing and rewiring 6 smoke alarms
Comments: Blake Electric is wonderful. I would highly recommend them. I called on saturday and they called back and came to my house. Now that is service!
Review by: M.
Work Description: Hang two ceiling fans; install outdoor electrical outlet; change bathroom light/fan switches in 3 rooms;
Comments: Ed is such a wonderful person! All work was done exactly as asked. The job was done neatly, also! I have referred him to others, and I'm sure they will be pleased!
Review by: H. M.
Work Description: Installed an 220V outlet inclusive wiring
Comments: Very professional, responsive for a reasonable price. I recommend Ed Blake very strongly. I had very interesting comparable experiences, but Blake services and professionalism is outstanding!
Review by: K. R.
Work Description: Fix generator so it would turn off after 12 hours.
Comments: Mr. Blake and his son-in-law were amazing. I had an emergency situation and they were at my home very quickly. They are competent, polite, very clean, and just amazing people. I would recommend them to anyone.