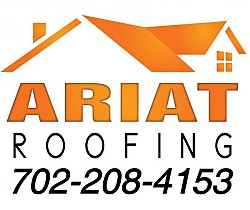 Prescreened by Networx
Ariat Roofing

License:

74329

Main Services:

All types of roofing

Years In Business:

15

Company Overview:

With over 20 years of roofing experience in southern Nevada, we understand the needs and demands of our customers roofs. We are a versatile company that is capable of any size job. Whether its a single residence or several commercial properties, we have the ability to tackle any sized project. Ariat Roofing has completed roofing builds and repairs throughout southern Nevada, as well as our neighboring states; Arizona and California. We have been working hand in hand with homeowners, local community, project developers, general contractors and architects to build and maintain quality roofs at affordable pricing. We use only ASTM Certified materials, maintain excellent insurances, and follow strict safety guidelines to ensure that any job we do is completed safely, on time and to the standard you would expect. We pride ourselves on following the most modern construction standards, and keeping constant quality control efforts to make sure that every job is completed with the highest quality and craftsmanship.





Website:

http://www.ariatroofing.com
Reviews By Customers
Review by: B. R.
Work Description: Repair loose shingles & cap
Comments: Jay is the man to call for roof repairs. Came out, gave me an estimate, I accepted & the job was done in 3 days. I highly reccomend this company for any roofinfg problems you have. His crew did a excellent job in a short time & the cost was signifantly below the other estimates I received.
Review by: P. . N.
Work Description: awesome
Comments: Very fast, and reliable
Review by: D. W.
Work Description: Shingles and flat roof complete replacement, also addition of a vent and the moving of my A/C. Facia boards and sheeting replacement.
Comments: These guys were on time, working all together (at least 10 workers) completed my roof in 6hrs. From start to finish very courteous and professional.I would recommend Ariat Roofing to anybody that needs any roof work.
Review by: J. W.
Work Description: Install power vents
Comments: After a miscommunication, Jeff came out and explained all I needed to know about attic ventilation. He took his time to insure I understood. Not sure yet what I will do but Ariat will be at the top of my list. Thanks Jeff.
Review by: R. P.
Work Description: Re-roofing, remove old and install new.
Comments: Excellent job. Just 1 day start to finish. Cleaned up all debris.
Review by: C. B. .
Work Description: He handles new roofing and repairs for us.
Comments: He is wonderful.