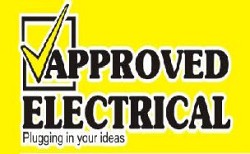 Approved Electrical
Approved Electrical

License:

TECL 24975

Main Services:

Commercial & Residential / Sign Services

Years In Business:

9

Company Overview:

State APPROVED Electrical Contractor, focuses on our clients needs first, always on time and we will get the project done right at the best price as possible.
Reviews By Customers
Review by: J. C. G.
Work Description: Bathroom plugs not working /
Comments: Job well done / arrived on time / explained what the problem could be / completed job in less than 45 min / reasonable price. Would recommend to friends and family
Review by: K. R.
Work Description: replace light fixture and smoke alarm
Comments: Bill came the same day I called him, assessed what had to be done, told us what it would cost, got the parts, and performed the work quickly and professionally at a very fair price.
Review by: E. . M.
Work Description: Needed some lights installed on some brick columns, required special tool. I had already bought all the materials, just needed some digging and didn't have a tool.
Comments: The work required was not that complicated, or demanding. I had all the materials, but some of the quotes I got were just ridiculous, just people trying to take advantage. I don't let on that I've done this type work just to see how honest a quote I will get. The company I selected was very honest, and I rewarded that.
Review by: D. G.
Work Description: He does all my electrical work.
Comments: Bill does good work and is dependable. I recommend him to anybody.
Review by: J. H.
Work Description: I had a problem with a tripping breaker, would not reset. I call Approved elec , and he gave me an approximation of time and price. they was below the other 2 places i called. My electrician was here in about 30 min and he finish faster than i was told and it was cheaper than i was told. WOW.. very honest company, I will refer this company to every one that needs electrical work done.
Review by: J.
Work Description: Install 2 ceiling fans, big chandalier and replace doorbell chime
Comments: I called Approved Electrical, and Bill asweared the call and gave me a quote over the phone and we set an appointment for 3 days later. his guys we on time and did an outstanding job, my wife and I will use them again on our next project. Thank Approved Electrical
Review by: S. M.
Review by: G. M.
Review by: S. M.
Work Description: Installed a new outlet and dedicated line
Comments: I was extremely satisfied with Approved Electrical. My electrician was so friendly and he came in under the estimate. They did an awesome job.
Review by: A.
Work Description: Electrical work
Comments: I have been using William for over 10 years. Bill always performed over and above my expectations, always provided professional and courteous job and service.