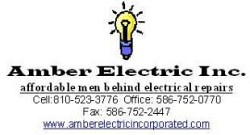 Prescreened by Networx
Amber Electric, Inc

License:

6107563

Years In Business:

33

Company Overview:

Amber Electric Inc. is a well established; family owned and
operated electrical company providing service to commercial and residential properties. Serving east and west Michigan
for over 25 years Amber Electric Inc. has become well known for
providing a high quality and reliable service to residential and
commercial contractors and home owners seeking electrical
service.

visit us at
www.amberelectricincorporated.com



Reviews By Customers
Review by: M. T.
Work Description: Install new service panel and meter. Rewire to new circuit breaker box. In short a complete upgrade to existing power supply.
Comments: I never did see his license to prove he was qualified. I never got a written estimate. He tracked snow and dirt through the house and damaged the paint in the room with the new breaker box install. I do approve of the finished work but the way he worked is just sloppy. I should have looked elsewhere. I feel he took advantage of my desperation to get things fixed.
Review by: N. F.
Work Description: buzzing noise in one of the switches in the main circuit box and flickering lights in the rooms that are connected to that switch.
Comments: John promptly called me back to give me an estimate over the phone. He came and fixed my problem on the same day, very quick and efficient and honest. he didn't overcharge me, unlike the other companies I called who wants to charge me twice as much just to come out and give a diagnosis. I,m a very satisfied customer, Iwill highly recommend this company.
Review by: K. S.
Work Description: Had one ceiling fan repaired and 3 new installed (holes cut in ceilings, lines run to wall switch, fan assembly and testing).
Comments: Wonderful! Very professional and clean! On time. Fair price. Very nice as well. I would recommend without hesitation, and have recommended to a friend already>
Review by: D. V.
Work Description: 100 amp service upgrade with circuit breakers, new meter can, pipe riser, 2 ground rods, cold water ground, & permit.
Comments: Owner John Sirhan and one helper completed the job with ease, professionalism, and courtesy. Sirhan was prompt at returning calls, and responded to my residence quickly for a free estimate. He started in the morning and finished within a few hours. He even pulled my permit at no additional charge. Very satisfied with his work and strongly recommend him.
Review by: M. V. N.
Work Description: We had some fixtures changed, and trouble shooting in our back room and outdoor lights.
Comments: Great job, quick, very well priced, already have recommended to others and will continue to do so. Will use in the future!
Review by: K. R.
Work Description: Installed a dedicated line for my kiln.
Comments: Out of the three businesses that I contacted this was the only one that responded. He was very polite and did excellent work. I will definitely call him back if I need any electrical work done.
Review by: R. I.
Work Description: replaced circuit breaker
Comments: John was prompt and efficient. He was in and out in 20 minutes. I found him friendly and professional. I would recommend him to others. Thanks for the referral
Review by: Customer
Comments: I got a call within 2 minutes from john sirhan and he gave his quote and was very prompt at getting the work completed. I would recommend him to anyone that looking for fast,freindly and cost efficient electrical work done
Review by: H. A. M. S. .
Work Description: Kitchen re-model
Comments: Amber electrical service is superior. John the owner was there for the whole job not sending in people that I did not know. There prices were resonable and the job was completed with quality workmanship. He and his staff are very professional and always showed up on time. Amber Electric has our business.
Review by: R. W.
Work Description: Kithen remodled, basement remoldling, with some wiring work.
Comments: My kitchen looks fantastic the only problem I have is my basement is so beautiful I want to be in both places at one time. Jon was great, so friendly, efficient. I will always call and recomend amber electric. My moms kitchen looks almost as good as mine.
Review by: D.
Work Description: Service change, and some upgrades
Comments: very respective individual, work was done in a timely manner! Professional work ethnics, I will and have recommended his work to others!