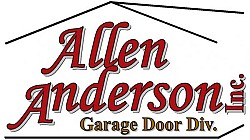 Prescreened by Networx
Allen Anderson Garage Doors

Main Services:

Residential and Commercial Garage Door Service and Repair -- Garage door repair and replacement

In Business Since:

2001

Awards:

Mega Dealer Award for Sales Performance, Extreeme MAke Over Home Edition Contributing Partner in 2007 & 2009

Company Overview:

Allen Anderson, Inc. Garage Doors Division, has been pleasing it customers by exceeding standard industry practice. Allen Anderson, Inc. - Garage Doors Div. is committed to providing the quality, value, experience, and compassion you deserve. Allen Anderson, Inc. has been repairing and replacing garage doors since 2002. We understand that you, the homeowner, wants nothing but the best for your 'castle' and, will accept nothing less than open two way communication, expert advice, and comfort in knowing the job will be done right and recommendations made with your best interests at heart. Any garage door or garage door opener recommendations made by Allen Anderson, or any of its representatives can be expected to be made with options to allow you, the home owner, the freedom to decide what is best for you with the knowledge and education we can provide. Call us today for a free estimate.
Reviews By Customers
Review by: jon Youngblom from North Branch MN
Work Description: replace siding replace shingles calk pipe
Review by: Steve Ehret from Inver Grove Heights MN
Work Description: Door spring replaced.
Comments: They did an excellent job. On time and completed a couple of extra tweaks to the door opener for me. Thanks Randy!
Review by: Robert Austin
Work Description: Installed new garage door.
Comments: Technician was very friendly. He was very knowledgable. He did an excellent job and explained anything I had a question about in a clear concise manner. He checked out that the door opened by checking it repeatably so that I rest assured it was working properly before he left. He cleaned up after himself before he left. I would highly recommend him and his company to anyone who needs their garage door repaired. In fact I recommended them the next day to the girl who cuts my hair and she is going to call them to come out and look at her garage door.
Review by: Diane Leider from Minnetonka MN
Work Description: Scott helped realign my garage door opener sensors and settings so it would work again
Comments: Was great to get a call the mornng after asking for assistance, and to get service the same day!
Review by: mary marks from Jordan MN
Work Description: Garage door repair and install new opener.
Comments: Response to contact was very prompt and the work was very well done. The installer kept me informed as to his arrival and was careful to explain how everything worked.
Review by: Terry Griffiths from Savage MN
Work Description: Repaired garage door
Comments: Scott called within 15 minutes of online request. Shiwed up earlier than mentioned (a plus). Experr analysis, timely repairs, guaranteed his work and an all around wonderful wxperience. Price was way lower than expected!! Will definately recommend A. Anderson Garage repair!!
Review by: tim wagener from Minneapolis MN
Work Description: Opener
Comments: Great job
Review by: Larry Smith from Minneapolis MN
Work Description: Replace door springs and adjust tracks.
Comments: Helpful and professional all the way. Enjoyed the skill eficency of his service
Review by: stacy roxberg from Minneapolis MN
Work Description: replace overhead door
Comments: great job
Review by: julie kaloides from Hopkins MN
Work Description: my garage door would not open anymore and the fixed it so it would work
Comments: they were very friendly and reasonable
Review by: Marlene Bundrock from Rogers MN
Work Description: new install of garage door
Comments: Very pleasant and promt service. Not pushy. Would and will recommend this company again.
Review by: Yuri Nazarov from Saint Paul MN
Work Description: Spring adjustment
Review by: Irina Nazarova
Work Description: Our garage door needed torsion spring adjustment.
Comments: The service man came same day I ordered the service and exactly in time. Job was finished quickly and Allen Anderson Co. charged me much lower price than 3 other contractors given me online.
Review by: Wayne Blazei
Work Description: Garage Door spring needed replacing
Comments: Came out on Saturday and finished promptly.