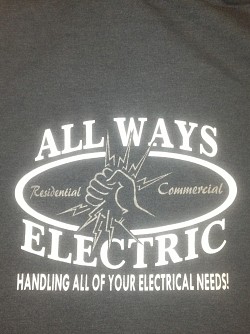 All Ways Electric
All Ways Electric

License:

45783

Main Services:

service upgrades, rewires, home compliance, new construction, extra outlets/lighting..

Years In Business:

6

Company Overview:

Every year, more efficient, money-saving technologies flood the market. All Ways Electric keeps abreast of all the latest trends and innovations in the electrical field, and we can put that knowledge and experience to work for you! Count on the seasoned, professional technicians at All Ways Electric for all your residential and commercial electrical needs.
Reviews By Customers
Review by: J. L. B.
Work Description: Half of house had no electric and a breaker kept popping.
Comments: Shawn was very polite and punctual. He found problem quickly and corrected it for me. I would highly recommend to my friends.
Review by: J. A.
Work Description: I had an electrical problem in an upstairs bed room where the lights and outlets stopped working; however the breaker did not trip. I spent several days trying to trouble shoot the issue myself but was unable to find the problem.
Comments: All Ways Electric came right out and was able to quickly find the problem and safely rewire the damaged area. They were very professional, honest, and worked quickly. I would defiantly recommend them to others.
Review by: C.
Work Description: New service
Comments: Great guys that work hard. I couldnt ask for better workers they even put my dog outside for me! To make it even better the are very clean cut and handsome expescially Chris....
Review by: D. W. O. C. O.
Work Description: Ran a dryer line from basement to upstairs.
Comments: I would definitely call him again.
Review by: A. O. .
Work Description: Shaun handles anything electric for me.
Comments: Shaun does a great job. He is a good guy, straightforward, and knows what he is doing.
Review by: H. K.
Work Description: Add lighting in basements, remove wiring to garage, and resolve miscellaneous code violations for the city so house could be reinspected
Comments: Good work,, dependable, would definitely recommend
Review by: K. V.
Work Description: add 2 breakers and run seperate line for microwave and edenpure heater and added a gfi plug in bathroom
Comments: I would hire them again
Review by: D. C.