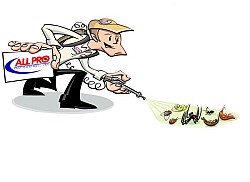 Prescreened by Networx
All Pro Pest Control Inc

License:

33290

Main Services:

Bedbugs, Ants, Spiders, Bees, Rodents, Gophers, Ground Squirrels, Birds, Roaches, Crickets, Earwigs, Silverfish.

Years In Business:

9

Company Overview:

We are your best choice for all your pest control needs...Bedbugs, Ants, Spiders, Bees, Roaches, Earwigs, Silverfish, Pantry Pest, Gophers, Ground Squirrels Flies etc...we have the necessary experience and resources to eliminate all your pests quickly and efficiently. Give us a call today. L.A. /Hollywood/Pasadena/San Fernando Valley (818) 771 - 0396 Santa Clarita 661-298-2200

Website:

http://callpropest.com
Reviews By Customers
Review by: L.
Work Description: Sprayed inside and out.
Comments: Was on time, answered all my questions. We will see if all the bugs are gone?
Review by: M. C.
Work Description: They are very professional at All Pro. Recommend highly.
Review by: E. S.
Work Description: cover up areas that mice where entering the house. Set traps for mice.
Comments: Joseph the owner was very polite, came on time, and was reasonably priced. I just would have liked him to be neater with his work. The screens he put on over the openings don't look good.
All Pro Pest Control Inc Replied:
I was called out to deal with a severe rodent issue inside the home. I sealed the openings with "Hardware Cloth" steel screen mesh, I used metal screws to secure the screens, the openings are on the side of the home. I am a pest control guy, not a general contractor, or a handyman. My objective in preforming an exclusion for rodents is to do what it takes to seal the holes.
Review by: L.
Work Description: Sprayed for bugs
Comments: Wonderful customer service! Out of the 4 referrals from Networx, All Pro was the only company to contact me. Within 3 days the work was schedule and completed. Great company to work with.
Review by: F. M.
Work Description: technician who came out did a very though job on spraying for spiders.
Comments: once they got to our home, technician was very professional
Review by: M.
Work Description: ants, spiders, roaches
Comments: I was so impressed how fast, prompt and professional Sterling and Joseph were. They called right away and was sensitive to all my concerns. They listened well and was very fair about everything they charged. It was so refreshing to have reliable, honest, and clean servicemen come to my home. Its always hard to find a good service company so I'm grateful I found this one. They charged a basic fair price and they were worth it. I will always use All Pro and refer All Pro!! Thanks Joseph and Sterling. also Kimberly, who runs the office, is absolutely wonderful to work with. She was so helpful and kind. They made it feel like I was talking to family. I'm really liking the company.
Review by: O.
Work Description: treatment for bed bugs
Comments: Joseph Wilson was puctual and very professional, he put the tenants at ease and explained the concern clearly, and did the work on time. Very satisfied
Review by: J. B.