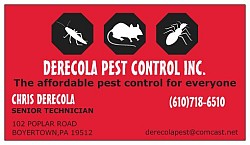 Derecola Pest Control, Inc.
Derecola Pest Control, Inc.

Main Services:

General pest control

In Business Since:

2012

Company Overview:

Derecola Pest Control offers the best service at a low affordable price. No job is to big or small,highly trained senior technician.

Let us know what is bugging you....

Affordable Pest Control
(610)718-6510
Reviews By Customers
Review by: Diane Ferreri from Royersford PA
Work Description: Investigate squerrels in Chimney
Comments: This service was excellent, punctual and very courteous.
Review by: Joseph MacAllister from Adamstown PA
Work Description: flea treatment
Comments: Chris did an excellent job for me! He was right on time and very professional. He was knowledgeable and helped me with all of my questions. Very affordable. I will definitely use him again! A++ overall experience. Thank You!
Review by: Jean Reitelbach from Downingtown PA
Work Description: Our new construction home had too high humidity level which attracted infestation of moisture loving, household pests.
Comments: Chris was quick in scheduling treatment. He was sensitive to my concerns about chemicals. He educated me on additional measures to take (humidifiers, monitoring for leaks everywhere/anywhere--and we discovered one, talked about benefits of running A/C to control home's humidity as well, suggested cleaning/eliminating construction debris,cardboard boxes, etc. under bathroom cabinets as cleanliness & less clutter is also key to pest control... ) Chris called several times to check in with me. He returned to my home to take a look and see how things were going with the insect monitors he placed. Professional, sincere, affordable, on-time, excellent follow-up, and results... I highly recommend Derecola Pest Control.
Review by: susan Dawson from Reading PA
Work Description: sprayed for insects inside and out,very well.
Comments: was thorough and right on time
Review by: Joyce Kama from Reading PA
Work Description: Working to eliminate a large bedbug infestation.
Comments: Very thorough, personable, educated me on pest activity and behavior. Always punctual. Saw a speedy decline in pests after first treatment. I have replaced my former exterminator with him.
Review by: Charles Littleton from Mohnton PA
Work Description: Sprayed entire house inside and out.
Review by: ART from Boyertown PA
Work Description: bee,s infestation
Comments: Chris was very through in his work took his time answered many questions.
Review by: Leann from Douglassville PA
Work Description: Gen. pest
Comments: Great low cost service,friendly very through technician. I Started a monthly service plan and do not see any more bugs. Thank you