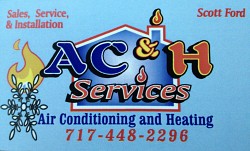 Prescreened by Networx
AC & H Services

License:

PA001193

Main Services:

Residential and Light Commercial Heating and Air Conditioning

In Business Since:

2003

Company Overview:

We are a family owned and operated air conditioning and heating company centrally located in Carlisle, PA. We provide sales, services, installation, repair, and service contracts to residential homes as well as home builders and small businesses. Established in 2003, AC&H Services continues to flourish due to the commitment to our customer's comfort and satisfaction. We are here to keep you warm in the winter, cool in the summer, and provide you with cleaner air for your family's comfort and peace of mind. We provide service and repair at a price that's fair. Give us a call, our technicians are friendly, helpful, and ready to serve your HVAC needs.
Reviews By Customers
Review by: Kathy Noel from Enola PA
Work Description: Scott fixed multiple problems with our gas furnace quickly and efficiently.
Comments: Scott came quickly, actually a day before his scheduled time, because we had no heat on the coldest weekend! He diagnosed and fixed the problems quickly. He was very polite, professional, and readily taught me things to troubleshoot if I had a problem again. I won't call anyone else anymore! Call Scott from AC&H Services, Carlisle, you'll be happy you did.
Review by: Michael Saam from Shippensburg PA
Work Description: Excellent work, didn't show up the first time but it wasn't an emergency
Comments: Kept in contact and made sure we were taken care of in plenty of time before the cold weather hit
AC & H Services Replied:
Thank you ! Michael !
Review by: gary bly from Carlisle PA
Work Description: very professional, courteous and informative.
Comments: I would not hestitate to use this contractor again, if need of this type of services is required in the future. I would highly reccomend them.
AC & H Services Replied:
Thank you Gary for the great review. Sorry it took so long to reply to ya !
Review by: Brandon Loken
Work Description: Finish Basement to include modifying existing HVAC system, adding zone system and running new ducting throughout the basement.
Comments: Outstanding service. Very competitively priced. A true professional. Most dependable and best work ethic of all the subs I had hired for my basement project. Has my highest recommendation and would definitely hire again.
Review by: wayne mark from Carlisle PA
Work Description: Expert troubleshooting and excellentadvice on how to avoid future issues.
Review by: Tina Hurt from Grantville PA
Work Description: Repaired wire to air conditioning unit and replaced a breaker
Review by: Gordon N
Work Description: 16 seer heat pump installation with a variable speed blower and two stage compressor
Comments: "Our experience of having a new heat pump installed from start to finish has been very positive. Scott Ford is a young professional who knows people as well as his product. From day one he treated us with respect and fairness. He answered our questions, gave us a fair price, installed a good product- Frigidaire HVAC. We are now enjoying the fruit of his labor. We are very satisfied with the nice, even heat the heat pump provides, and I am sure we will save money on our investment in the long run."
Review by: Boiling Springs PA
Comments: "We had been having problems with our heating system for years. The company that installed it came out many times and never were able to permanently address the problem. When the system again malfunctioned only hours after their last visit, we contacted AC & H Services. Scott was prompt and knowledgeable -- describing likely issues and possible options. The fix we went with appears to have resolved the issue -- we've now had two months without any difficulties."
Review by: Mike R
Comments: "They were very professional and best of all honest. I was very happy with the work done by them."
Review by: Gretchen
Work Description: We use him exclusively for all of our HVAC work that come through to our Property management company.
Comments: He is our go to guy. Never had any complaints from any of our homeowners or from our associations. Great and prompt.